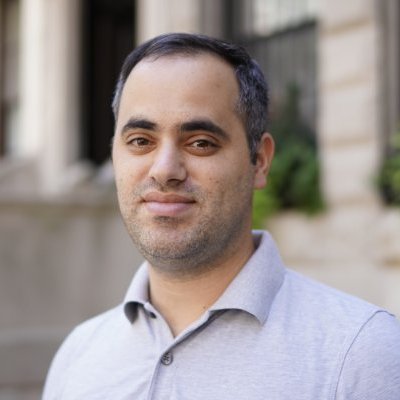 You're Better Than That
Policygenius has made a minor, yet significant change to its homepage. It went from "the easy way to compare and buy life insurance"…to "the easy way to compare and buy insurance" (note the missing "life").
Founded in 2014, Policygenius (~$51m in funding) began its journey by focusing on selling life insurance. If their previous homepage isn't a good enough indicator, check their YouTube page to see how many times they talk about life insurance, and consider this – there are 3,855 search terms that include the word 'life' in which Policygenius appears in the top 10 Google organic search results, compared to 1,165 that include the words 'auto' or 'car'.
"I have a garden in my backyard that's completely organic, 
which I'm very proud of." 
- Ariana Grande.
In a recent post, we talked about Policygenius' different (and superior) customer acquisition approach; appearing organically on Google where there's intent. Because it's either that or this:
Why the Change? 
From a business and a consumer standpoint, it makes sense for Policygenius to expand into other lines of business. If it can provide a good experience for comparing auto insurance then everyone wins (except insurers, but that's a different story). But, with their auto insurance offering, Policygenius isn't staying true to their nature. Unlike their life, disability, renters, homeowners, pet or health offering where they control part of the experience with their dedicated licensed insurance reps, their auto insurance offering is simply based on a referral model.
Customer experience aside, there's nothing wrong with earning a commission on referrals, but there are referrals and then there are referrals. In addition to featuring CoverHound, Liberty Mutual, Allstate, USAA and State Farm – its "trusted auto insurance partners," Policygenius also features "other offers" (powered by MediaAlpha) – a list of insurance comparison sites, which some will suck the life out of you if you try to figure out the companies behind them.
Apollo Interactive, the El Segundo, CA-based company helping insurance clients "acquire customers and drive sales" via "powerful proprietary products, tools, and properties" is the company behind at least two comparison sites on the list: www.bestautoinsurance.com and www.blueskycoverage.com. You can read one Glassdoor review here, and I dare you to use their comparison service with your real info. And before we move on, some facts: Both Best Auto Insurance and Blue Sky sites have similar traffic – around 220k monthly visits, both receive a good portion of their traffic via referrals, where the top referring sites are MediaAlpha and EverQuote. And if you're asking yourself why a comparison site sends its visitors to a competitor comparison site, then keep in mind that one site makes money from the referral, and the other enjoys traffic at a considerably lower cost than what Google would charge. Win-win.
Q&A
On its homepage, Policygenius displays the top five questions people ask them – let's look at two: "How is Policygenius different from other insurance sites?" and "How does Policygenius make money?". For the first question, Policygenius declares that they "set a high bar to make Policygenius the only insurance site you'll need." This means that Policygenius offers "all the top insurance companies" so customers don't have to shop elsewhere. For the second question, Policygenius states that they get paid a commission by insurance companies for policies they sell. With Policygenius' recent changes, both answers are only partially true. The company is no longer the only site to shop for insurance, as it refers customers to insurers and other comparison sites, and they don't just make money via commissions from policies sold – they also make money via referrals (unless they send customers to other sites for free).
You're Better Than That
While Rocky tells his son not to point fingers (btw, here's the CREED II trailer), it's hard not to point fingers… With competitors like EverQuote and Health IQ (and their supporters) that choose cheap tactics to get customers, it becomes difficult to stay on track . As of today, EverQuote, which also offers life insurance generates ~1,259% more traffic than Policygenius with a staff that's only ~103% bigger. In other words, for every Policygenius employee the company attracts 4.2k website visits, compared to EverQuote which generates 28.6k visits for every employee. And let's not forget other internal influences – since the launch of Policygenius, ~60 new US companies have entered the life insurance space. This leads me to believe that there are only two possible reasons for why Policygenius chose to also work on referrals: (1) They figured out that it's more cost-effective to earn referral commissions compared to sales commissions, or (2) they need the extra revenue and not being able to offer a complete customer experience similar to their other products was not going to stand in their way. Either way, this is bad news.
You think you're in control? 
As someone with past experience in the lead-gen industry, I can tell you that it changed significantly. In the past, the focus was on quality, exclusive leads, but as marketing costs went up due to the fact that almost all online interactions start on Google and Facebook, the focus has changed to quantity and shared leads – and you all know that quality doesn't come in quantity. And while the quality deteriorated, we still stick with lead-gen and PPC models because we think we're in control by being able to optimize the campaigns via detailed reports on performance filled with charts and numbers. The thing is, unless you're selling $5 renters or smartphone insurance, you should not rely on lead-gen, CPM (cost-per-impression) or PPC (pay-per-click) models (that includes social media) because selling insurance…
And when you pay for every attempt to sell, in a medium that's effortless and emotionless, and filled with competition, you end up with reports that show you frustrating conversion rates.
"Not all those who wander are lost." - 
J.R.R. Tolkien.
A (real) Genius Move
If you're an established insurer, you have something most startups don't have – a wide customer base. Your average customer is possibly older than a millennial and likely more loyal. This buys you some time and when you have the most valuable asset, you can explore alternative distribution channels. But before you start wandering/exploring, you need to ask yourself one question: Are you willing to give up 'control' in the form of advanced targeting, flexible budgets and detailed campaign' reports offered by online advertising platforms? If you are, then you'll be free to think creatively and trust your instincts. For example, having one of your licensed insurance agents join Peanut, while you invest money in Peanut's efforts to grow its US community. In exchange, Peanut will tell its members that by buying insurance from you, a portion of the premium gets invested back in them, the Peanut community.
Because you can do well by doing good.
Get Coverager to your inbox
A really good email covering top news.