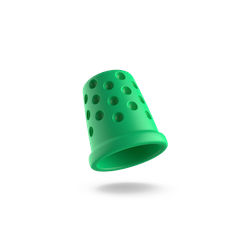 Thimble Launches Product Liability Insurance For Crafters & Makers
Home-based Manufacturers and Craftspeople Can Now Purchase Coverage Through Thimble's Expanded Product Liability Policy
NEW YORK, NY (June 2, 2021) – Thimble, the insurtech startup that provides business insurance by the month or by the job, today announced the expansion of their offering to include product liability coverage to the increasing number of vendors and merchants selling homemade goods. 
Candlemakers, soapmakers, jewelry makers, leather craftspeople, and small apparel manufacturers will now have access to both general and product liability coverage with Thimble's policies, providing coverage for bodily injury or property damage arising from the sale of goods manufactured or sold by the insured. Quotes can be provided in under 60 seconds at Thimble.com. 
"Surprisingly, this type of coverage is often excluded by other providers," said Jay Bregman, CEO & Founder of Thimble. "With the rise of home-based businesses, we're excited to cover business owners who are turning their passions into profits whether at the local flea market or on online marketplaces like Etsy and Amazon."
As the chosen business insurance solution for over 200+ professions, Thimble's latest expansion into these new vendor categories is a continuation of their commitment to putting the needs of the small business owner first. From expanding into monthly insurance policies in early 2020, to offering Business Equipment Protection earlier this year, Thimble ensures small businesses are equipped with the protection they need to succeed on their own terms. 
Visit Thimble's website to learn more and get a quote for Product Liability Insurance. 
About Thimble
Thimble's mission is to make insurance simple, to help businesses succeed on their own terms. Its flexible insurance policies are designed with small businesses in mind, who face great uncertainty in normal times, and are now on the road to economic recovery. Available by-the-month or by the job, Thimble coverage takes less than one minute to obtain and can be modified, canceled, or paused at any time. Thimble has sold over $175B in coverage since its inception.
Founded by Jay Bregman and Eugene Hertz, Thimble is based in New York City and has raised over $30 million in funding from IAC, Open Ocean and other top firms. General Liability and Professional Liability policies are underwritten by Markel Insurance Company or National Specialty Insurance Company. For more information, visit www.thimble.com.