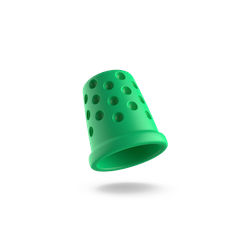 Thimble Appoints Richard Stamets as SVP of Business Development
Stamets, with 30+ years of experience, will ensure that Thimble's technology is helping insurance brokers, agents and wholesalers to better serve their small business customers
NEW YORK (March 23, 2021) — Thimble, the insurtech that helps small businesses succeed on their own terms, today announced the hiring of Richard Stamets as Senior Vice President of Business Development. Stamets will lead the charge as Thimble doubles down efforts to work closely with insurance agents, brokers and wholesalers with one goal: to put its flexible business insurance options into the hands of small businesses at scale. 
Stamets' hiring comes on the heels of numerous Thimble innovations that are helping small businesses get back on their feet. The company announced both Thimble Monthly and Thimble Pause in 2020, putting full policy control into the palms of customers' hands via the Thimble app. Additionally, the company announced major partnerships with Hiscox and Angie's List to offer Thimble's flexible policies at scale. Because of this progress, Thimble was named the #1 Small and Mighty startup on the 2021 Fast Company Most Innovative Companies list. 
"We want the broker community to know that Thimble is on their side," said Stamets. "Brokers play a critical role in the insurance ecosystem, as trusted advisors and guides to their clients. Thimble empowers them with new product options that match the needs of current business owners, better customer management tools, and outstanding commissions. All of this is designed to help insurance pros who've dedicated their careers to helping their customers succeed, and are looking for every advantage as they chart a course forward."
Prior to joining Thimble, Stamets was the Head of Underwriting at Attune Insurance. Before Attune, he was Vice President of Small Business at Starr Companies, Vice President of Programs at Hamilton Insurance Group, and spent eight years with AIG in multiple positions. Stamets' expertise in the industry is vast, leveraging technology in underwriting, sales and distribution management, and executive leadership.
"Rich's experience in insurtech and knowledge of the industry will be a huge asset to our team," said Jay Bregman, CEO and founder of Thimble. "His guidance will be invaluable as we grow our offerings for both small businesses and our industry and wholesale partners. Our team could not be more excited to have him on board."
Interested brokers can set up a Thimble account in as little as 30 seconds at thimble.com/broker. Once registered, brokers can earn commissions via Thimble's simple referral processes: sending their unique link, building a quote, or purchasing a policy on behalf of a customer. Customer quotes require just two pieces of information– job type and location– and coverage can be binded in as little as 60 seconds. Brokers maintain full ownership of the customer relationship. 
To date, more than 6,000 brokers are taking advantage of the Thimble Broker Program, helping their customers access coverage quickly and efficiently. For more information on the Thimble Broker Program, contact brokers@thimble.com. 
ABOUT THIMBLE
Thimble's mission is to make business insurance simple, to help businesses succeed on their own terms. Its flexible insurance policies are designed with small businesses in mind, who face great uncertainty in normal times, and are now on the road to economic recovery. Available via monthly subscription or for as little as one hour, Thimble coverage takes less than one minute to obtain and can be scaled up, adjusted or paused at any time. Thimble has sold over $175B in insurance coverage since its inception.
Founded by Jay Bregman and Eugene Hertz, Thimble is based in New York City and has raised over $30 million in funding from IAC, Open Ocean and other top firms. All General Liability and Professional Liability policies are underwritten by Markel Insurance Company. For more information, visit www.thimble.com.