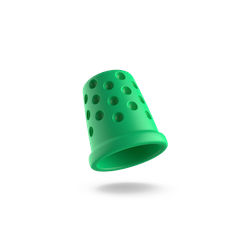 Thimble Appoints Terri Hitchcock as Chief Insurance Officer
A 30+ year veteran of the insurance industry, Hitchcock joins one of insurtech's hottest startups to bring simplified, adjustable coverage to SMBs across the U.S. 
Thimble, the startup that makes insurance simple to help small businesses succeed on their own terms, has appointed Terri Hitchcock as Chief Insurance Officer.
Hitchcock is a seasoned executive with 30+ years of experience in the property and casualty insurance industry. She joins Thimble from Perr&Knight, where she was Director of the Product Design Practice. She's also held executive positions at Affirmative Insurance, TIG Insurance Group, and the Zurich Insurance Group. Her expertise spans standard property and casualty lines of business, professional liability insurance for all types of professionals and facilities, errors and omissions coverage and management liability coverages.
Hitchcock has consulted with Thimble since 2017, and was pivotal in bringing Thimble's breakthrough on-demand and monthly general liability and professional liability insurance products. In her new role as CIO, she will oversee both existing and emerging products in Thimble's offering.
"Terri is a big reason why we've built such a beloved brand among SMBs thus far," said Jay Bregman, CEO and Founder of Thimble. "Her leadership has been vital as we set out to change the landscape of insurance products and formats for modern business owners. Terri's expertise is second to none, and as a full-time member of the team her leadership will provide incredible value as she accelerates the release of many new insurance products for small businesses."
"I've always been a big believer in the Thimble mission since the first time I met Jay," said Hitchcock. "Business insurance is in desperate need of an evolution, and there's a clear need for innovators like Thimble to act as a catalyst. We're all committed to helping customers succeed on their own terms. I'm grateful to be joining the team in an official capacity and I'm excited to see where we take things next."
Since its launch in 2019, Thimble has functioned as a springboard for SMBs that are new to the insurance market: An incredible 75% of Thimble hourly and daily customers are first-time business insurance buyers. For more established businesses, Thimble Monthly has resonated exceptionally well, with 33% of customers switching over from their annual policies. The company has achieved a NPS score of 82, which is nearly 3x the insurance company average of 28.
For more information, visit Thimble.com.