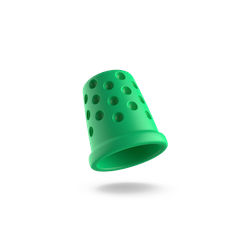 Thimble announces Business Equipment Protection for small business owners
From cameras to chainsaws, the insurtech startup is now offering scalable insurance that covers work equipment for professionals
NEW YORK, NY – Thimble, the insurtech startup that helps small businesses succeed on their own terms, has introduced Business Equipment Protection–insurance specifically dedicated to covering the tools used by small business owners when on the job.
Designed for freelancers, independent workers and small business owners, the new insurance offering covers not only the cost of damages to equipment that may occur while working, but also damage to rental equipment, customer equipment, or borrowed equipment. Business Equipment Protection will also cover replacement costs in the event of an accident.
"At Thimble, we are constantly talking to our small business customers and evolving based on that feedback," said Jay Bregman, CEO & Founder of Thimble. "Equipment protection is essential for many businesses, especially in today's uncertain climate where the cost of an expensive tool can't be taken for granted. We're here so that these business owners can have peace of mind to focus on what matters most: their business."
The new offering provides three coverage limits–$1,000 and $2,000 and $5,000, each with a $500 deductible. Thimble customers can pay the premium they're quoted, and in the event that equipment is damaged, they are covered up to their selected limit.
Business Equipment Protection is offered to all 200+ professions covered by Thimble and will be rolling out nationally throughout 2021. To date, coverage has been particularly popular with Thimble's Handymen and Contractors, with 62% of these professionals adding Business Equipment Protection to their existing coverage. 
In 2019, Thimble became the first and only company to introduce On-Demand insurance, available by the hour, day or job, for small business owners. Thimble then expanded into monthly insurance policies in early 2020, allowing SMBs to cut the cord from annual policies. With Business Equipment Protection, the insurtech continues to put the needs of small business owners first, no matter their size or growth stage, to ensure they are only paying for what they need, when they need it.
Those interested in learning more about Business Equipment Protection can visit Thimble.com/Business-Equipment-Protection. 
About Thimble
Thimble's mission is to make insurance simple, to help businesses succeed on their own terms. Its flexible insurance policies are designed with small businesses in mind, who face great uncertainty in normal times, and are now on the road to economic recovery. Available by-the-month or for as little as one hour, Thimble coverage takes less than one minute to obtain and can be scaled up, adjusted or paused at any time. Thimble has sold over 125,000 policies representing over $175B in coverage since its inception.
Founded by Jay Bregman and Eugene Hertz, Thimble is based in New York City and has raised over $30 million in funding from IAC, Open Ocean and other top firms. All General Liability and Professional Liability policies are underwritten by Markel Insurance Company. For more information, visit www.thimble.com.