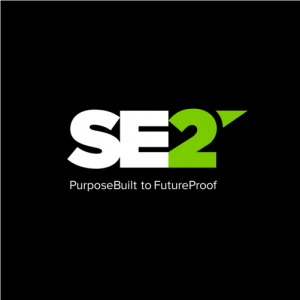 SE2 and Life.io Survey Finds 85% Of U.S. Adults Would Improve Health And Fitness Habits For A Lower Monthly Life Insurance Premium
New research examines the role rewards and customer engagement play in encouraging adults to not only buy life insurance, but to make fitness and health improvements as well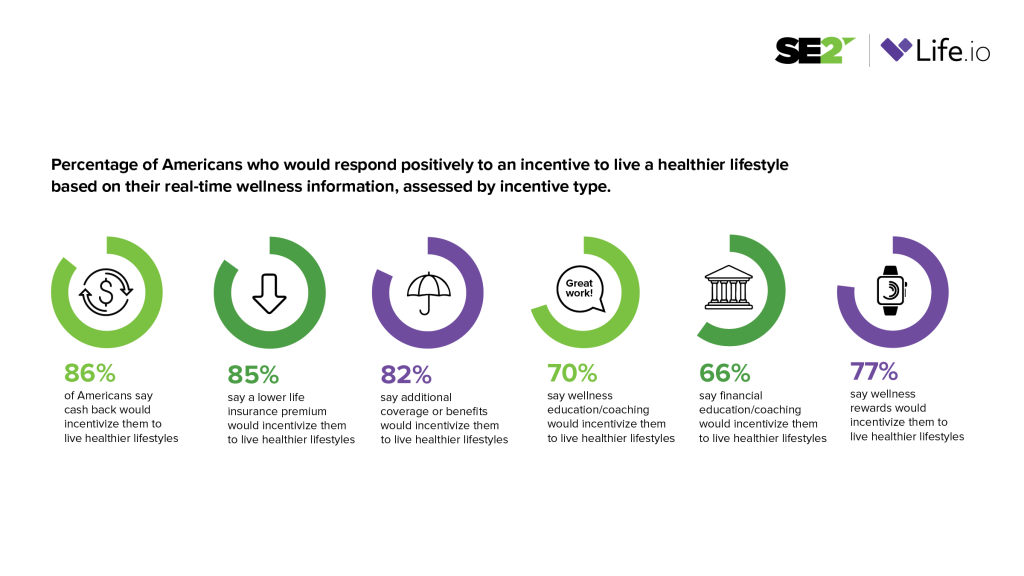 New research conducted online by The Harris Poll on behalf of SE2 and Life.io among over 2,000 U.S. adults found the vast majority of respondents would opt to share real-time wellness data with insurance companies through wearable devices in exchange for ongoing financial benefits like a lower insurance premium or wellness rewards. ​​SE2 is an industry leader in providing technology-driven third-party administration services focused on the U.S. Life and Annuity insurance industry, and Life.io is a leading customer engagement platform for insurers. 
The data also found that U.S. adults want their policies to be more interactive. Roughly two thirds (68%) say if a provider offered a policy that included elements of gamification to reward healthy lifestyle and wellness habits (think: badges for hitting certain milestones, a leaderboard, financial rewards), they would be likely to engage in those elements. 
IF YOU BUILD IT, THEY WILL COME. The U.S. population wants more engaging life insurance policies. Can insurers answer their call and turn around stagnant sales?
Recent research from LIMRA, a not-for-profit research trade association focused on the retirement industry, found that 43% of consumers don't own life insurance. The findings from SE2's and Life.io's research hints at what insurers can do to change that.  
Forty-three percent of U.S. adults say they'd be "much" or "somewhat" more likely to purchase a life insurance policy if the insurer offered an interactive program with ongoing wellness benefits (such as wellness coaching and education) rather than just policy payout. 
In terms of generation, over half (53%) of millennials (ages 23-38) say they'd be "much" or "somewhat" more likely to purchase a life insurance policy if the insurer offered an interactive program with ongoing wellness benefits. This is noteworthy given life insurance sales have historically lagged amongst this group, according to previous research from SE2. Even baby boomers want in. More than one-third (36%) of boomers (ages 55-73) say an interactive program with ongoing wellness benefits would make them "much" or "somewhat more" likely to purchase a policy.
SHOW ME THE MONEY DATA. A majority of U.S. adults seem to like the idea of exchanging wellness and lifestyle data with life insurers for rewards.
They would be willing to share wellness data, such as steps walked daily (79%), blood pressure daily (76%), heart rates daily (74%), calories burned daily (73%) and sleep patterns each night (71%) for ongoing financial or health rewards. 
In fact, those rewards could lead to lasting lifestyle and health changes. Eighty-six percent of U.S. adults say they'd be "much" or "somewhat" more likely to live a healthier lifestyle if a life insurance company offered cash back as an incentive in exchange for their real-time wellness information. Almost all (94%) of millennials say this would be the case for them. Other incentives that would urge the insured to improve their lifestyle habits? There are plenty:
86% of U.S. adults say

cash back

would incentivize them to live a healthier lifestyle

85% say a

lower life insurance premium

would incentivize them to live a healthier lifestyle 

82% say

additional coverage or benefits

would incentivize them to live a healthier lifestyle

77% say

wellness rewards

would incentivize them to live a healthier lifestyle 

70% say

wellness education/coaching

would incentivize them to live a healthier lifestyle

66% say

financial education/coaching

would incentivize them to live a healthier lifestyle
At the same time, nearly 4 in 5 U.S. adults believe insurers having real-time access to this kind of data makes them responsible to notify the insured of potential health issues based on patterns from the data. Seventy-eight percent of U.S. adults "strongly" or "somewhat" agree this is the case. 
GOODBYE ONE-SIZE-FITS-ALL. 65% of U.S. adults say they would be likely to switch their life insurance provider to a company that could tailor coverage offerings to fit their individual insurance and wellness needs if their current insurer could not.
In addition to personalization, most U.S. adults indicate a desire for more frequent engagement with their provider, with 80% believing they should engage their customers beyond sign-up and billing. Millennials especially stated this to be the case, with 85% of this generation saying they believe insurers should reach out beyond sign-up and billing. 
"As carriers in the life insurance industry shift away from using broad risk pools and instead targeting individual risks of the insureds, the need for a personalized, tailored experience is increasing exponentially," said Vinod Kachroo, CIO of SE2. "We're learning not just where the market is underserved but what we can do to engage those demographics that have historically been hard to convince that life insurance is a smart investment for them. From millennials to boomers, the way people want life insurance to be delivered has changed. Insurers must offer products that meet those desires, or be left behind." 
"Industries like payments and airlines have cracked the code with loyalty programs that engage and reward users on an ongoing basis. And these programs have proven to stick; consumers are indeed deeply loyal to their provider of choice. The life insurance market is maturing to this concept and those who don't adopt an engaging, customer-centric model in the next few years will soon be seen as laggards compared to their competition," said Jon Cooper, CEO of Life.io. "More than ever, the end-customers of insurance carriers are expecting higher frequency of engagement, more personalized policies and recurring benefits. We hope insurers and agents alike will use these findings as a roadmap for delivering products that grow and future-proof their businesses."
For access to the full report with additional key findings, visit https://info.se2.com/life-insurance-as-a-partnership-life-markets-survey.
LET'S TALK
Simply having the best technology, systems, and capabilities in place no longer is enough. Success in the hyper-connected economy of the future hinges on how well businesses are able to integrate those capabilities and data sources to provide the digital experience the consumers of today and the future expect. SE2 Digital Engage™ and its enabling ecosystem provide insurance carriers with an API-enabled, end-to-end, open-architecture framework to quickly launch innovative new products and provide customers with the digital experience they are demanding. 
Interested in hearing how SE2 and Life.io can help you better meet your customers and prospects where they are and further engage them? Set-up a time to chat here.
METHODOLOGY:
This survey was conducted online within the United States by The Harris Poll on behalf of SE2 from December 16-18, 2019 among 2,032 U.S. adults ages 18 and older. This online survey is not based on a probability sample and therefore no estimate of theoretical sampling error can be calculated. For complete survey methodology, including weighting variables and subgroup sample sizes, please contact SE2 here.
About SE2
SE2, an Eldridge Industries business, is a leader in technology-driven third-party administration services for the U.S. life and annuity insurance industry. SE2 has a proven track record in delivering platform led transformations for the life and annuity insurance industry. SE2 uniquely combines the maturity and peerless industry knowledge of its 125+ years of life insurance industry heritage with its end-to-end digital platform to enable the rapid launch of new and innovative products through existing as well as digital channels. SE2 currently administers nearly 2 million active policies on behalf of its 25+ clients. SE2 has over $100 billion in assets under administration and handles more than 200,000 new business applications annually. Please visit SE2 at www.SE2.com to learn more.
About Life.io
Life.io, a leading customer engagement technology firm that helps companies educate, engage and reward their customers at every stage of the customer journey through a state-of-the-art digital experience. Life.io's team of experts and world-renowned advisory board, incorporate behavioral economics, gamification and psychology to create highly engaging solutions for its clients. Learn more at Life.io.
About Eldridge Industries
Eldridge Industries grows diversified businesses with a focus on Credit; Insurance and Insurance Administration; Real Estate; Sports and Media; Convenient Food; and Technology. In particular, the firm seeks to build and grow businesses led by proven management teams that have demonstrated leadership and experience to scale an enterprise. Eldridge is headquartered in Greenwich, Connecticut, with additional offices in Beverly Hills, New York, and London. To learn more about Eldridge please visit www.eldridge.com.