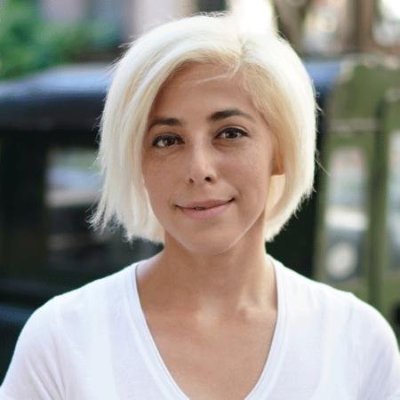 Friday Feeling: Shortcuts & Shortcomings
In June 2016, Everplans received $6.4 million from several investors including Transamerica Ventures and RGAX. This was the latest reported round by Everplans and according to a source, funding was impacted by COVID-19. Everplans didn't confirm or deny these statements.

According to LinkedIn data, at least 6 employees are no longer working at the company as of March-April 2020. A significant number when you consider the fact that in its peak days the company was a team of ~25 people.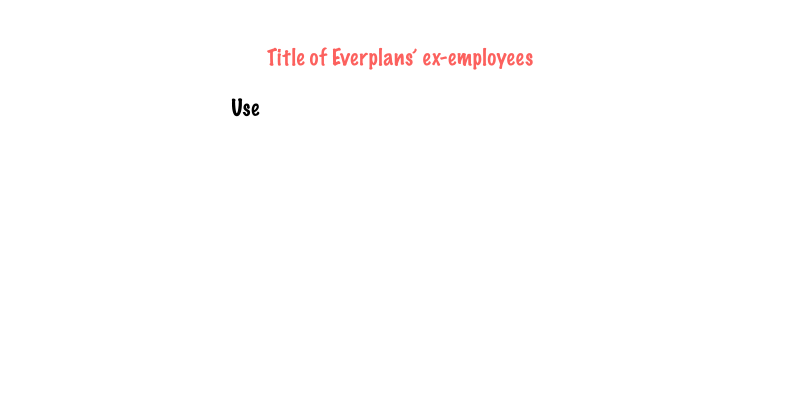 Keep your eyes on the price
Abby Schneiderman and Adam Seifer cofounded the online estate and legacy planning platform to tackle end-of-life planning. For $75 per year, every year, customers can access a digital vault to store passwords and important documents. Aside from its direct-to-consumer model (D2C), Everplans also targets financial advisors, insurers, and companies willing to offer its product to their employees.

This is Everplans according to Everplans:

"Help your employees become better planners and be better prepared for major life milestones and for unexpected events. With Everplans, your employees can organize, store and safely share important information and benefits with those in their lives who need it."

"Everplans leads advisors to develop a deeper and more holistic connections with their clients and their families leading to stronger more sustainable relationships."
In reality, for the last 9 years, Everplans has been offering a digital vault in a space that is attracting interest and new entrants. 
Everplans operates under the umbrella of 'after life planning tools' – a catch-all phrase that groups similar and not-so similar companies that face an uphill battle of getting people to think about death. This group includes digital will services, digital vaults, logistics management, and legacy recording services. I'm purposefully omitting life insurers. And just as the category has seen a rise in new entrants (Safely Deposit, Kubera, Goodwill), it has also witnessed a drop in existing players or businesses that have turned to landing pages without employees (SafeBeyond, Qwill, AfterSteps, and Principled Heart).

What stands out is – not one company stands out. The two 800-pound gorillas in the room are LegalZoom and Rocket Lawyer. LegalZoom which served over 4 million customers claims over 1.5 million wills were created using its service which starts at a one-time fee of $89. Rocket Lawyer's premium membership costs $39.99/month. These companies rely on other sources of revenue or value propositions to reach customers so online wills aren't comprising their entire business model. Vice versa, companies like Trust & Will and Tomorrow Ideas offer a single product; operating in an environment without standards as pricing ranges from 'free' to 'negligible.' Stated differently, these products are needed (not wanted) and can be found for free. Fabric, for instance, is a life insurance intermediary based in Brooklyn that in 2018 added a free will service to its offerings. And Cake is free forever.

On the other hand, when Willing launched back in July of 2015, it planned on making money off its free will service by helping people find funeral homes. The Miami-based company has raised ~$7 million, and as of last year – ahead of its lackluster acquisition by MetLife – it was a team of 7. It claims to have helped over 500k customers create a will. What remains unknown is how many of these users paid for the service as Willing currently charges $69 to create a will.
For a company founded in 2012, Everplans offers very little to go by to suggest a success story. But this isn't a story on COVID-related mishaps. It's a story on insurers that are lured to go where no customer wants to go as if 'insurance' in itself isn't enough of a turn-off. Everplans moved aside its D2C model to focus on enterprise sales promising engagement and a multi-generation approach that pushes parents, children, and grandchildren towards a financially responsible future. To RGA, for instance, Everplans is a case study in "improved engagement between advisors and customers." However, touchpoints aren't engaging when they take place at a moment in time and it remains questionable just how valuable these touchpoints are.

Everplans still operates a D2C model and has seen "good quarters," but it wasted a considerable amount of time seeking shortcuts – operating as an enabler instead of competing for market share. Because if it remained focused on its D2C model it would have known awhile back that it needed to work on its pricing and features. After all, if you can offer a product for free for a year amid COVID, you could have/should have done it sooner.
When Everplans secured its $6.4 million Series A round 4 years ago it claimed that over 100 firms were currently offering Everplans to clients and that "hundreds of thousands of people" visit their site each month. While that is correct, it's worth looking at the triggers that prompt people to visit the site, which receives more than half of its traffic from search engines.

For the month of May, around 40% of website visitors landed on one of the many articles the company produces. Looking at the list below, either many Everplans users experienced a loss or these are random people that were attracted to the site due to its Google organic rankings.
And when you look at the company's organic rankings by volume in which they appear on Google's first page, the top 10 search terms have nothing to do with the product being offered.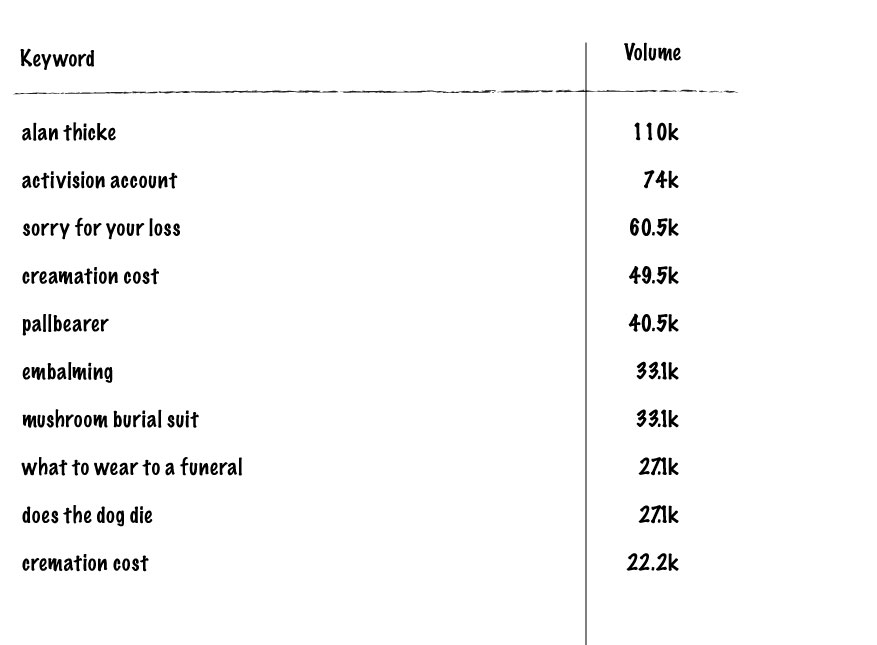 You probably don't remember this, but Belong Safe, a London-based on-demand host insurance provider has shut its doors in the same year it opened them – 2016. One of the reasons cited at the time was that the product was too expensive. But you may remember this – the homeshare product powered by Slice and underwritten by Great Lakes Insurance SE is on pause. My point is – to explore is to fail, at times, but to explore where others have failed is avoidable.


Don't kick against the pricks

Something else took place in June 2016. AXA Germany launched WayGuard, an app designed to give women peace of mind as it can transmit the user's geographic location to a coordination center and in the case of an emergency, can alert rescue services. In 2016, it generated 1.7 million minutes of support, and in late 2019, AXA launched the app in Switzerland and saw over 300,000 registered users in Germany.

Both AXA and Everplans operate in the space of wellness – be it financial wellness or the actual wellbeing of a person. Except only one isn't looking to outsource engagement via a B2B2C model. Engagement, however, doesn't exist in the context of insurance as meaningful engagements lie at the intersection of frequent and fulfilling activities and most insurers haven't been willing to play in this space. 
Are you willing to be the exception?
When Vitality was still known as PruHealth in the UK, its advertising campaign centered on the slogan 'why pay for the gym?' In fact, to this day www.whypayforthegym (dot) com redirects to vitality.co.uk. And while this tactic of discounting lifestyle services has been adopted by a few insurers making it stale, the following notion still holds – it doesn't matter what you do once in a while, it matters (more) what you do (or don't do) every day.
Get Coverager to your inbox
A really good email covering top news.