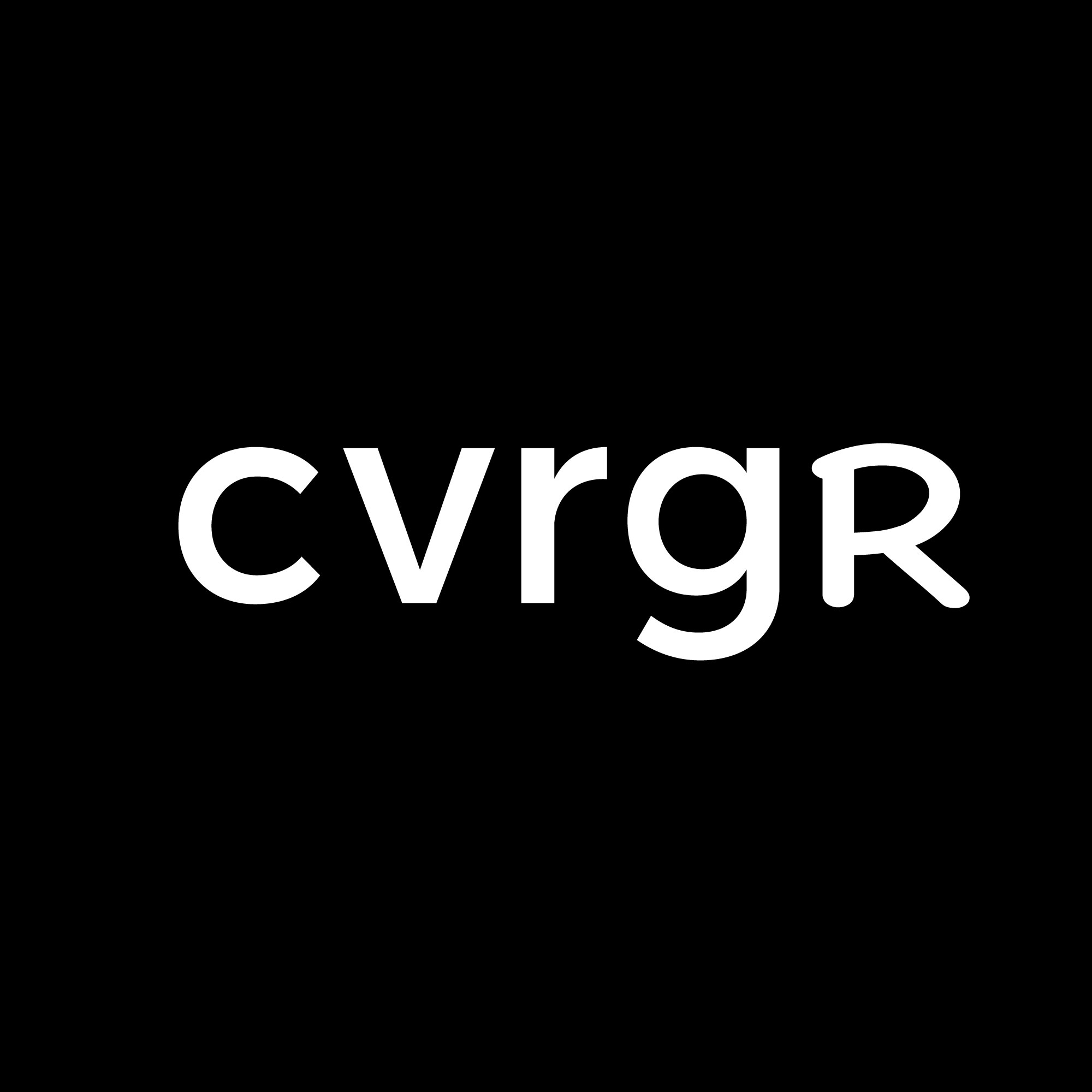 Carpe's Data in Paradise 2022 slides
Here are the key points and takeaways from my presentation at Carpe Data's recent conference:
1. The ABC of any successful insurance strategy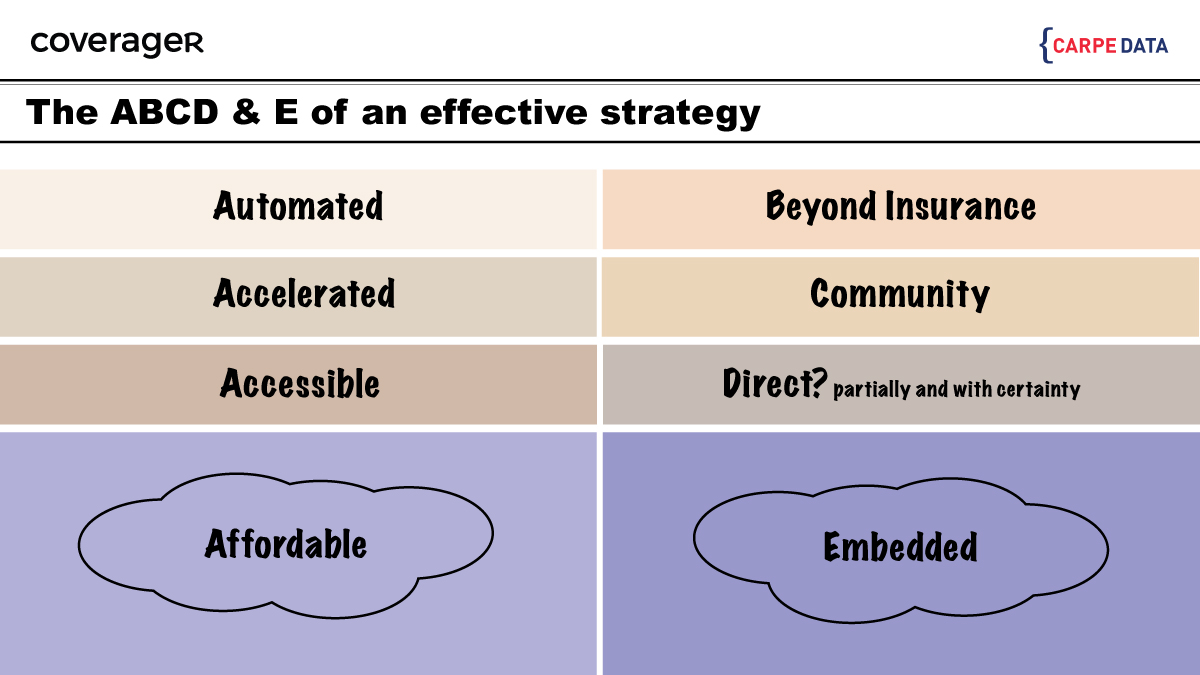 An insurance product needs to be A-okay, meaning the product needs to be automated, accelerated, accessible and affordable. Other successful strategies include going beyond insurance, creating communities and finding ways to embed insurance. The decision to develop a direct-to-consumer (D2C) channel is based on an analysis of the product's suitability for digital distribution and whether or not customers will make self-serve online purchases.
Next Insurance was clearly eyeing Hiscox when it launched in the US, but it should have paid more attention to small business insurance-related searches via Google. Luckily, it ain't over till the fat lady sings, and Next has gone on to launch Next Connect (its embedded insurance proposition).
2. You win some, you lose some
Alex Timm, unlike Tom Brady, made the decision to work in the insurance industry like his father. The goal was to develop a Progressive-like product that was mobile-only, exclusive (think of the test drive and rejecting "bad" drivers), fair, and based on how drivers actually drove. In actuality, Root's success is largely attributable to both Carvana and its pricing schemes during renewal.
Only recently Alex Timm went on to admit that the carrier's automation of rate filings is speeding his company's actuarial rate indications onto regulators' desks. "We had a loss ratio better than GEICO" in the first half of 2022, "and ours is continuing to trend down. And we still are seeing a lot of the incumbents struggle to actually take rate in the market." Root also shared that having a book of business that is not heavy in the "tough regulatory states of California, Florida and New York has also helped it achieve cumulative rate increases of 25% across 34 rate filings this year" (a Carrier Management story).
When it comes to Carvana, Root Insurance is integrated with its used-car marketplace. The insurer saw a third of its premium volume in Q2 '22 come from Carvana and that's great for Root, but is Carvana great for the people? It is certainly good for car-sellers….
3. Appearances can be deceiving
You want to be a modern insurer? Check some or all the boxes above. However, anyone can do that. Building a "smart and responsible" business is more challenging and the way to go.
4. One step behind Root
Loop Insurance began as Ometry, a risk technology business that measured road safety, in 2015. Of course, the first fundraising round for the MGA in 2021 was when it truly kicked off its idea of building another Root – a company that will "leverages AI, big data, and telematics to create more 'fairly' priced insurance products." The company further shared that technology and data to assess risk more dynamically have long since been available, but insurers have been slow to adapt. Well. Root adapted it, but Carvana sells without it.
Question is, is Loop ready to do what Root is doing to move beyond its few-thousand policies sold?
5. One step behind Progressive
As you know, GEICO recently took a page from Progressive's playbook as it now redirects small business insurance shoppers to its own comparative rating platform, presenting quotes from multiple carriers including Hiscox, Liberty Mutual and Homesite.  You don't fix what isn't broken and what's broken at GEICO is that it's been a while since it had 1 year (2017) where it celebrated 2 milestones.
6. Progressive sees beyond insurance
Progressive formed a business incubator called Level20 back in ~2019 to focus on products and services beyond insurance. Nowadays, Progressive has 2 live initiatives – a home renovation service called Castle and a financial wellness service called Stretch Financial. However, it has also filed trademark applications for Ello Money and Aver. The latter is described as a checking/savings account and the former is described as a credit and loan service. Progressive will have additional options for integrating insurance if one of these three financial services offerings succeeds.
7. Going beyond insurance starts where the "5 elements of modern insurance" stops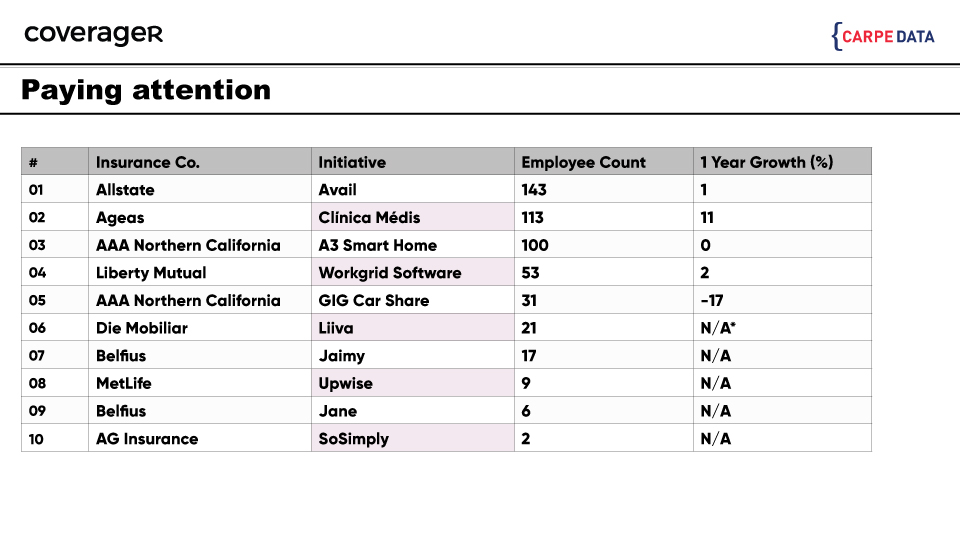 There are many examples of insurers going beyond insurance, but I'll name/pick one. Jane was established in 2018 and went live at the end of 2019. Formerly known as Charlin, it provides older people with a sensor-enabled monitoring solution that can notify caregivers when odd events happen. In 2021, Jane saved the lives of seven people. Also in 2021, Belfius Insurance injected additional capital of EUR 3 million into Jane, increasing its stake to 92.67% from 77.4%. The remaining shares are owned by Boston Consulting Group. Point is, the influence/power insurers lose when dealing with and distributing a commodity product can be partially regained by expanding beyond insurance.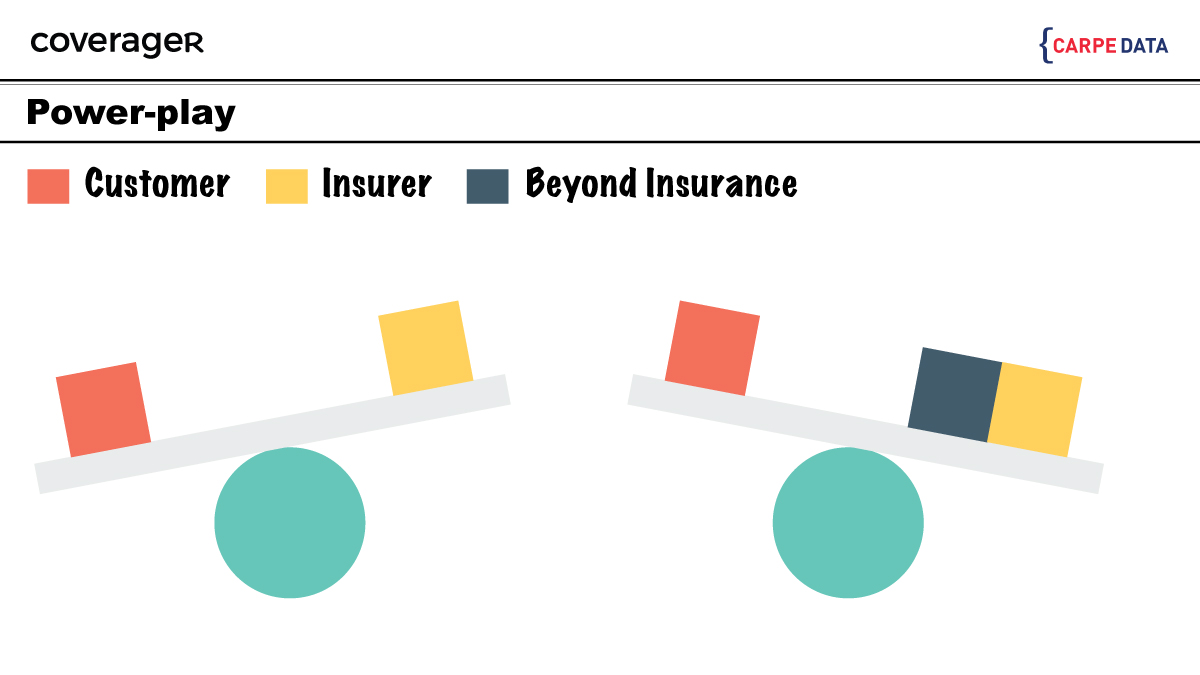 8. Price wars coming your way? Here is proof:
9. Always remember…
10. Getting back to Carpe Data
This year, private equity firm Thomas H. Lee Partners (THL) announced a strategic growth investment in Carpe Data. THL was at one point in time the owner of Experian that is now the parent company of personal lines insurance shopper Gabi.
Experian was founded in 1803, when a group of London tailors started exchanging data on clients who failed to meet their payments. These tailors understood that marketing their trade was no longer a personal endeavor, and they required a substitute to make up for their lack of faith in potential customers. A man by the name of Jim Chilton started one of the first US credit agencies many years later and in the US. He did two wise things: he published on both good and bad data and persuaded people that it was their data, not his.
It's interesting to note that Experian provided the data for one of Coca Cola's well-known advertising campaigns as Coke used Experian's knowledge of likely soda drinkers in the UK to determine the names that would be most popular to print in the style of its logo on these specialty bottles. Experian examined several data points for the age group of 19 to 29 in order to fulfill the request. CEO Brian Cassin stated to Fin 24 in 2018 that "We have the capabilities to actually accomplish more with the combination of technology, data, and software." There is a persistent belief and a valiant effort to keep insurance sold personally (via agents), but as Experian will tell you – all good things must come to an end.
Download the deck here.
Get Coverager to your inbox
A really good email covering top news.