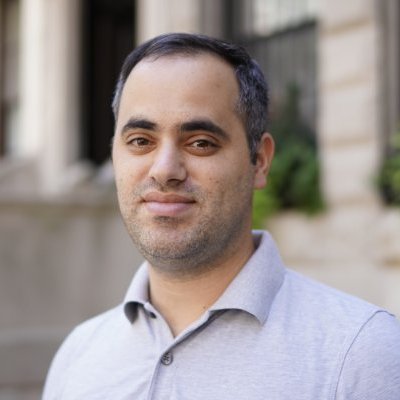 Thoughts on 2020
Today I got a little closer to buying a Peloton in what would be another blow for the jocks that used to rule this earth. With every sold Peloton, another fit jock loses a one-on-one training session with a client. Don't talk to me about fitness instructors joining the Peloton revolution because their 24″ touchscreen isn't big enough to accommodate the ~373K jobs this category had in 2019 – as of June 2019, Peloton had 511K connected fitness subscribers and as of December 2019, the company employed just 32 instructors. "For us, the same studios and same instructors can service 500,000 subscribers or 10 million subscribers," says John Foley, Peloton's founder, and CEO. Next Insurance cannot be happy about this growing segment of online fitness.
* * *
Lucali is one of the most famous pizzerias in Brooklyn. I've had it for the first time a few months ago and after double checking my taste buds on two separate occasions, I can safely say that it is the best pizza I've ever had. When you're that good, you can get away with things. The owner, Mark Iacono, refuses to accept reservations and credit cards, and his pizzeria isn't available on any of the convenient food delivery apps. With COVID still around, Lucali is hanging in there but many restaurants are not. The result? Increased adoption of food delivery apps and ghost kitchens, which were trending before the pandemic. These changes in the food business will impact companies insuring restaurant owners and their employees.
* * *
Insurance companies have a distribution problem, but VC money has helped create startups with a business model problem. For Progressive, Credit Karma is a nice-to-have distribution partner, but for Credit Karma, insurance is a must-have revenue stream. "It is this compensation that enables Credit Karma to provide you with services like free access to your credit scores and free monitoring of your credit and financial accounts at no charge." This reality presents an insurance company with the ultimate dilemma – boycott companies style Credit Karma with the hopes that their revenue-less model kills them, or partner together and prosper up until that moment where the king of distribution exiles the insurance company and replaces it with another.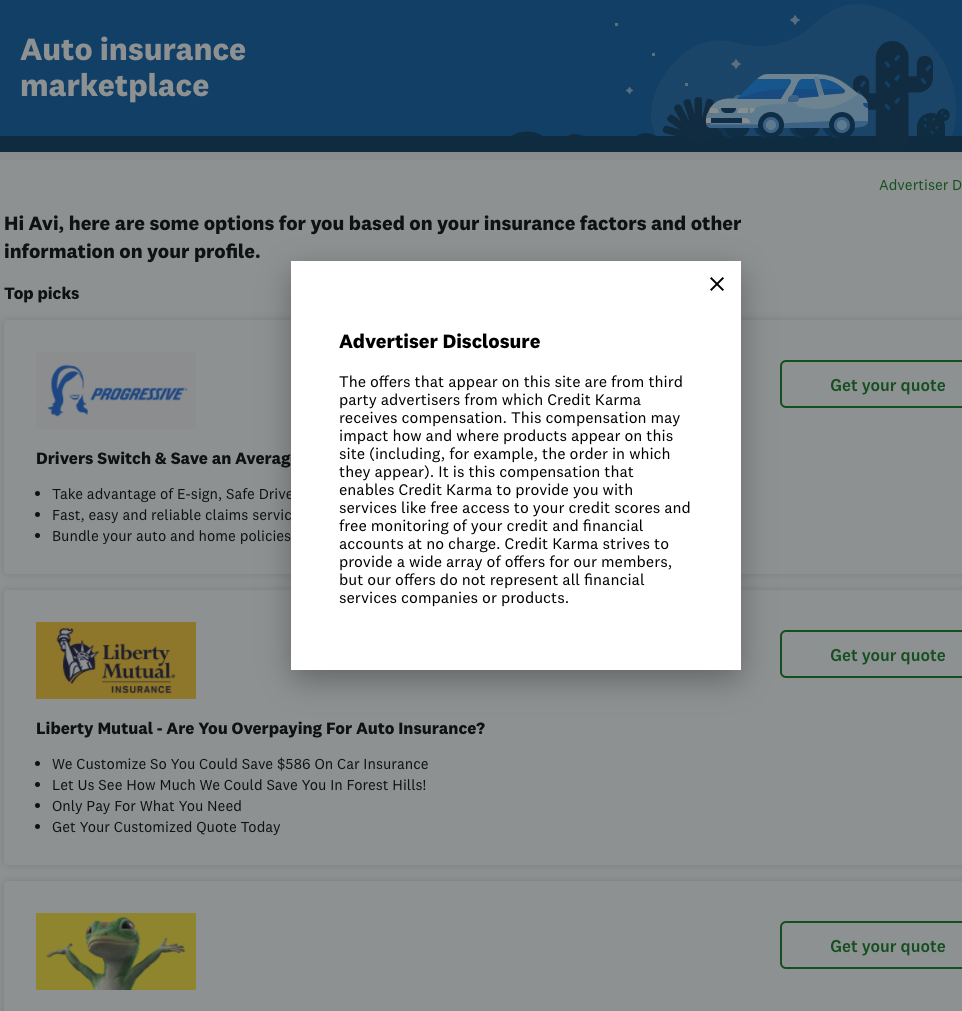 * * *
Fintechs are increasing their efforts to market insurance, but insurance companies aren't the only ones paying attention. The proactive approach of fintechs is hurting Google – if Chime helped a user come across Jerry for the sake of comparing car insurance, there's a good chance that the user will not have the need to search for car insurance on Google. By initiating interactions around users' financial needs, fintechs are reducing users' interactions around these categories on Google – a negative outcome for a company generating revenue off of users' clicks.
It was recently reported that Google is entering the fintech space by lending its design and technology to traditional banks such as Citi. "Just over a year ago, we set out on a journey with Google to create an experience that is 100% digital, and different, in banking. The Citi Plex Account is designed to give customers an always-on, friction-free, personalized experience at their fingertips," said Anand Selva, CEO of US Consumer Banking at Citi.
One of the key features of the new banking experience is "an intuitive approach to goal planning with AI-powered insights is designed to help customers save more, set savings goals, and become more financially healthy over time." Aside from making more consumers aware of their finances, we might see a collaboration between Google and its banking partners around in-app ads. For example, Google can offer Citi a revenue share model for displaying car insurance ads in the banking app. This will allow Google to be proactive and leverage users' financial data to present relevant offers from its large base of insurance advertisers.
* * *
Yes we can. That is the message Tom Wilson is delivering to the industry. In 2018, Allstate launched Drift, a P2P carsharing marketplace similar to Turo. Today, Drift is known as Avail, and here are some words from the company's chairman, president, and CEO about this under the radar venture:

"Well, let me tell you what Avail is. Let me tell you why we're trying to do it, and I don't have an answer to your last question, which is — so Avail is a car sharing platform. Imagine you're going on a week-long trip. You drive to the airport. You park your car. You pay to park your car, and you come back and you pay there and you pick your car. With Avail, you drive to the airport, you give us your car, we rent your car out for you while you're gone. And if you — and then you get that income if it gets rented out. If it doesn't get rented out, you get cheaper parking and we wash and clean your car for you in the meantime. So people think of it as Airbnb for your car.

The reason we're doing that is if you go all the way up to personal transportation industry, it's horribly inefficient. So we have $4 trillion tied up in hardware, $2 trillion a year in annual costs to keep those cars and trucks going, another $1 trillion of indirectcost, capacity utilization of 3% to 4%. At peak hours, it's 33%. A 20% savings in that cost structure is worth $3,000 per household per year when you have a $62,000 a year average income. Like people will fall out of love with their cars for a 5% increase in their income levels. So we're going to work on how do we do that. That was the concept.

We then said, "Well, like, why wouldn't Allstate do it? Like, why not some venture group out of Palo Alto?" So, well, first, we happen to ensure relationships with people who own 22 million cars. So we know them. They trust us. Insurance is a key part of that. So the value proposition then becomes something like what happened if you call and say, look, we can sell you normal insurance that everybody else has. We can tell you telematic insurance where you use your phone and we give you a specific price for you. If you want, we can put this little device in your car and just swipe it under your dashboard. And if you want, we can rent your car out for you. And it's not — won't just be at airports we take it in. In fact, we start in the airports because that's a good place. But then you can rent money out. So suddenly, you're less worried about what you're paying for the insurance because I'm now helping you monetize an asset that you're not using.

So if you live in the city, in New York, you live in an apartment building, why should everybody in the building pay $200 or $300 a month for parking. Why don't you share it? And I can use your car. You can use my car. We let you hold on to it. So we have a community-based offering as well. And then what that does is it really is wrapping our arms around the customer. We think we'll be able to sell them insurance. We'll be able to sell them insurance when someone else is driving their car, and we'll be able to help make money. Oh, by the way, we buy over $0.25 billion of rental cars a year for our customers, so wouldn't it be nice if we could shift some of that money to our customers as opposed to the big rental car companies.

The challenge for us in making money, all the research shows we can make money in it. I think the biggest challenge is an operational one. This is math. We are moving cars around, people around, getting them clean, people spilling Diet Cokes in the front seat, leaving something in the back seat. In fact, so our challenge, Jay, is an operational one. We have a great team working on it. We've been at it for a couple of years. We haven't really talked much about it, one, because we didn't want to let everybody else know we're doing it. Secondly, it wasn't really using up that much money. We're starting to put some real dollars into it now, and I want people to be aware that we're using shareholder capital to try to innovate in this space to extend — expand our customer relationships."
Judging by traffic numbers and customer reviews, Allstate is up to something.

2021? Yes we can.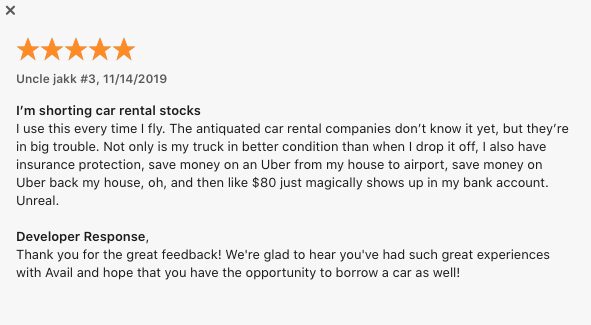 Get Coverager to your inbox
A really good email covering top news.