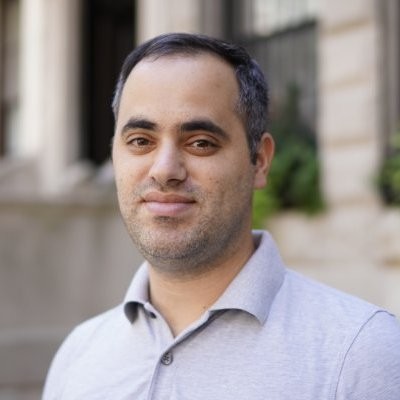 Q&A with David Feinberg, VP of Insurance & Risk at Justworks
At Coverager, we've coined this term insurance under the influence with the intent of covering several industries that have/will have an impact on insurance. Ten years ago a MetLife agent would call an HR professional to go over different benefits. Now, with companies like Justworks, Gusto, and Namely, the reality is that more businesses are opting for an online experience. In addition, select payroll and benefits platform have already made their entry into insurance. One example is Benefitfocus that not only offers life and disability insurance but also offers auto, home, and renters insurance. Finally, think of Toast, the company that started as a POS provider for restaurants has recently acquired a payroll and benefits platform to allow restaurants to manage their operations and payroll in one place.
All in all, we're seeing platforms across industries go beyond their core offerings and we believe that payroll and benefits platforms can offer a one-stop-shop for all of their users' insurance needs since they have the required data. And with this in mind, here's our Q&A with David Feinberg, VP of Insurance & Risk at Justworks.
1. Describe what you do.
Justworks makes it easier to start, run, and grow a business in America. We're a Professional Employer Organization (PEO), so in addition to payroll, HR, and compliance, we can offer our customers access to big-company benefits at affordable rates. I am responsible for managing our benefits offerings, which include health insurance from Aetna, UnitedHealthcare, and Kaiser Permanente, workers compensation insurance, and ancillary benefits like 401(k), among others.
2. Companies like Justworks, Gusto and Namely have entered an industry with powerful players like ADP and Paychex. Why do you think they saw early adoption from businesses?
The early adoption of new entrants was feasible because of a lack of innovation throughout the industry. This is similar to what we have seen in insurance and finance where a lack of new entrants did not push providers to develop their technology. By 2025, Millennials (those born between about 1980 and 2000) are projected to comprise half of the American workforce, and by 2025, 75 percent of the global workforce. Younger generations have grown up with technology revolutionizing all aspects of their life. For Justworks and similar companies, this change in the workforce is carving out an area for players building products designed for this generation. Small businesses have an opportunity to thrive when they have technology that enables them to run operations efficiently. Some entrepreneurs will grow a technology stack that handles more in the back-office so they can focus on growing their business. As younger generations continue to push for a modern workforce and adopt new tech, more room will be made in the industry for Justworks to expand in the space.
3. Companies like Justworks offer a platform for payroll, benefits and HR. On the other hand, you have companies that provide a benefits platform, focusing on just one area. Is the future an all-in-one platform or will we still see standalone solutions?
At Justworks we see a demand from our customers for PEOs to be flexible to businesses at various stages. All businesses are different and have created their own unique technology stack to help run operations easily and efficiently. The majority of Justworks' customers take advantage of the full suite of tools offered including payroll, compliance, HR support and access to benefits both traditional and ancillary. However, we do have some customers who prefer to keep their existing health insurance and just need to supplement their offerings for employees and use the Justworks platform to achieve this. When we think about our next partnership, benefit offering or technology upgrade, we focus on what our clients need to succeed. Currently, we achieve this by having a flexible PEO that can adapt to different companies at different stages.
4. We've seen Benefitfocus, the benefits management platform, offering personal auto and renters insurance, while Namely also offers pet insurance. Do you see more payroll and benefits platforms expand their insurance product offerings beyond the traditional group benefits?
PEOs have offered these types of insurances for years. Traditionally, these insurances were offered outside of the PEO platform as discounts or separate offerings. I think the future for PEOs is to more tightly integrate these offerings with the traditional suite of services. For example, PrismHR, one of the leading software vendors powering the PEO industry (we don't use), developed a marketplace for third-party vendors to plug directly into PEOs. This opens a door for businesses to include more ancillary benefits to diversify their benefit offers to employees. The workforce is evolving and younger generations are beginning to expect more from employers beyond traditional benefits including medical, dental, and vision (MDV). Today, providing access to mental health, financial planning, health & wellness, and additional ancillary benefits have proven to be good for business too. Employers benefit from happy and healthy employees; some seeing an increase in retention rates and productivity. Coupled with the fact that employers have more purchasing power than an individual plan member and PEOs only amplify that power, it appears to be a natural next step.
5. We're seeing platforms go beyond their core offerings to increase revenue but also to establish a stronger connection with their user base. As one of the few platforms that have valuable and timely data, how do you see the future of payroll and benefits companies?
As a company that caters to the small and midsize business (SMB) community, there is a future for PEOs to be more than a service provider for access to benefits, payroll, compliance and HR support. The workforce is evolving and it pushes companies of all sizes to change in order to stay relevant and continue to grow. Becoming an advocate for SMBs is a natural shift for PEOs to take, that can support customers and their employees. As an advocate for issues that directly impact SMBs, PEOs can help create a better enabling environment for customers to succeed and to take care of their people. For example, this year Justworks partnered with Commonbond to support their Debt-Free Tax-Free campaign that addresses the student debt crisis, a growing financial and mental health burden we see our employees and customer's employees facing. Together with the campaign coalition, Justworks participated in meetings on Capitol Hill to urge members of Congress to support bipartisan legislation, Employer Participation in Repayment Act (EPRA), that will give employers the opportunity to allocate up to $5,250 per year tax-free, to employee's student loan balances. Justworks believes in the SMB community's ability to help solve one of the most pressing issues hindering the advancement of young Americans in the workforce.
6. Jeff Bezos famously said that he reminds his employees to be afraid and to wake up every morning terrified since customers are loyal up until someone else offers them a better service. If Justworks has to be afraid of someone or something, what would it be and why?
We're not afraid of anything like that at the moment. Being successful in this business requires you to have a deep sense of empathy for your core customer. It's how we've gotten to where we are today – as a growing company ourselves, we bring a level of empathy that no other PEO can offer. We definitely don't take this for granted and are obsessed with learning all we can about our customers. This is done through multiple channels, including one that we call the "Customer Board." The group is led by a cross-functional Justworks team that connects with a diverse group of customers on an ongoing basis to learn and understand their needs firsthand. This information is then combined with other data points and influences changes in our services and offerings. In general, I would say we spend an outsized amount of time identifying issues that may impact our customers in the future. We are constantly working on ways we can help them succeed – whether that's through new software, legislation, HR consulting, integrations or the addition of industry-first services like 24/7 support.
7. There's a lot of activity in the insurance space – new startups, new funding, and digital initiatives by established carriers. Do you follow the space? If so, what is your overall impression on the latest activities?
I keep a high-level eye on the activity. There is a reason that "InsureTech" is one of the last frontiers (after FinTech for instance). The insurance industry is complex, comprised of legacy products, and since the products are viewed as things people need vs. want, innovation is limited. Individuals need renters insurance to get a home and need auto insurance to drive a car, but they don't need health insurance to complete a specific task. This is slowly changing for the insurance industry. With changing demographics and purchasing habits, there is an emerging trend to win the favor of millennials, especially since they make up 75% of the workforce. This evolution led to different innovations including mobile purchasing, paperless actions, direct to consumer buying (no brokers) and more. Among this generation there is a higher level of comfort in sharing data, allowing industries like auto insurance to innovate quickly using smartphone applications to monitor behavior and activity. Legacy systems limit the insurance industry, however, I see a future for InsureTech as businesses push to innovate in order to attract younger generations.
8. Securian Financial, a leading group benefits carrier, just acquired Empyrean Benefit Solutions, a benefits management platform. Assuming more insurance companies consider this route, what benefits will they gain by acquiring such platforms?
Primarily, they will benefit from lower distribution costs. If companies can more closely integrate, they have an opportunity to reach the consumer quicker and provide exclusive access. This removes the broker as the middleman and creates a more direct transaction.
9. There's a big talent gap in insurance and some companies are struggling to appeal to the younger generation. From your experience, are younger employees less loyal today and what advice would you give insurance companies looking to find their next leaders?
Retention issues are not unique to the insurance industry. In an increasingly tight labor market, candidates are taking a deeper look into each potential employer's mission and core values too. They assess whether the work they will be doing is meaningful and even what their peers will think of it. Of course, they also want to ensure that the firm they choose offers attractive benefits, development opportunities, a diverse and open culture, and a leadership team that advocates for their employees' well-being – both inside and outside of work. Creating an environment that checks these boxes is definitely a start when it comes to increasing retention rates in the insurance industry among employees across multiple generations. None of this matters without having strong core values, however. At Justworks we have five – compassion, openness, grit, integrity and simplicity, which we refer to as COGIS. These values inform everything we do at all levels and are the foundation for our employee culture, how we build our products, and conduct business with customers. Creating an employee culture based on common values helps enable people to realize their true potential at work, which is the foundation of loyalty in an organization.
10. If you weren't at Justworks what would you do?
I would be restoring 1960-70s muscle cars.
11. What's your favorite quote?
"Feedback is a gift and you have to seek it." – Scott Cook, Co-founder of Intuit.
Get Coverager to your inbox
A really good email covering top news.