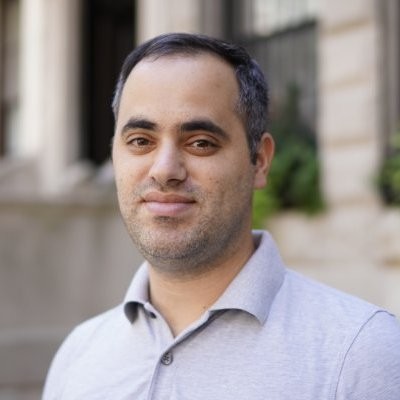 Grace Under Pressure
Ukrainian president Volodymyr Zelenskyy was born on January 25, 1978, to Jewish parents. His father, Oleksandr Zelenskyy, is a professor and a doctor of technical sciences, and head of the Department of Cybernetics and Computing Hardware at the Kryvyi Rih Institute of Economics. His mother, Rymma Zelenska, used to work as an engineer. Volodymyr graduated with a law degree from the Kryvyi Rih Institute of Economics but decided to pursue a career in entertainment instead.
His entertainment adventure began with KVN, a Russian TV show, and a sketch-comedy competition. In 1994, Zelenskyy's high school, School No. 95 in Kryvyi Rih, held a KVN tournament that pitted teachers against students. Zelenskyy, who was in the 11th grade, was the captain of the student team. A few years later Zelenskyy and his friends formed Kvartal 95, named after the 95th Kvartal, a neighborhood in Kryvyi Rih. The team first competed in the 1998 KVN festival in Sochi, making the finals twice, and in 2003 Zelenskyy co-founded entertainment company Kvartal 95 Studio. "Our ambitious objective is to make the world a better place, a kinder and more joyful place with help of those tools that we have, that is humor and creativity," Zelenskyy said.
The most meaningful production of Kvartal 95 Studio is a comedy TV series called Servant of the People. In the series, which aired in 2015, a Ukrainian school teacher (starring Zelenskyy) is elected as the country's president after a viral video filmed by one of his students shows him ranting against government corruption. The series was a hit and in 2018 its plot took a real-life twist when the Servant of the People political party was formed in Ukraine and its candidate, Zelenskyy, won the presidency in 2019. The newly elected leader concluded his inaugural speech with the following words: "Dear nation, throughout my life, I've been trying to do everything for Ukrainians to smile. I felt with my heart that it wasn't just my job, it was my mission. In the next five years, I will do everything so that you, Ukrainians, don't cry. Thank you."
There's a difference between making people smile and not making them cry but everything in life is relative – making crying people stop crying is an improvement even if they aren't laughing. Still, you have to acknowledge the unique distinction Zelenskyy made considering the fact that political leaders, especially inexperienced ones, tend to promise the moon.
It takes courage to get on a stage and try to make people laugh. It also takes courage to be a leader in a time of war. Yet few would consider the courage of a comedian to be courageous as the courage of a leader in a time of war. Today, many folks on Twitter (two examples: here and here) described a Ukrainian comedian and president as courageous. If Zelenskyy makes it, I'd like to ask him one question: Is there more than one type of courage?
While B2B matters take a back seat to real-world issues, I believe courage in business is worthy of a discussion. It takes courage to start a business, especially a self-funded one. It also takes courage to become realistic, especially if your business was founded on the premise of unrealistic outcomes.
This week, Travelers announced the acquisition of Trōv, an insurance startup that at one point was as glorious as Lemonade was. Unlike Lemonade which needed to bring a professor to sound different, Trōv actually offered a new model of on-demand insurance, but despite raising a significant amount of money Trōv wasn't able to generate demand for on-demand insurance. In a podcast, founder and CEO Scott Walchek said that the unit economics proved out to be unsupportable, even at scale. "To capture an individual, to train them to engage in insurance at times that they felt that they needed to – that was a proposition that now, in hindsight, was evident that it was going to be fraught," he said. "The unit economics were maybe, 'I protect my watch or something else that's valuable, for a day.' It's 31 cents of gross written premium. Even if I keep it on for a week, maybe there's $1.50 of GWP. And maybe then I break it and now we have a loss of $500 or whatever it might be. You can see that the economics would be upside down, but we didn't know and I don't think anybody knew."
Knowledge can help you in realizing things, and once you do, you need to have the courage, and decency to act. Of course, some people choose to keep on selling the fantasy even when they've faced the harsh reality, but that was not the case with Trōv – the company pivoted to become a boring (no offense) B2B player. This isn't something you can say (yet) about the folks at Root and Lemonade.
In its Q4 2021 letter to shareholders, Root mentioned Carvana 18 times across 12 pages. On the other hand, Carvana hasn't mentioned Root once in their Q4 shareholder letter aside from some technical mentions in the footnotes/financial statement. Root is now selling investors on the "gigantic opportunity" of embedded insurance as if they were the ones to discover it. In addition, co-founder and CEO Alex Timm says that they "still believe" in their direct channel. Believing is more believable than still believing.
Lemonade knows a thing or two about Ukrainians, specifically Ukrainian software developers as the company used their services. Courage is contagious but not when it can hurt your bottom line, and Lemonade doesn't have the courage to admit that it has no competitive advantage. "Our long-standing two-pronged strategy has been to win with technology and to grow with our customers," Daniel Schreiber said this week. "That is to build a digital native company on the premise that an insurance company built on a technological foundation will be able to service customers and quantify risk with a degree of precision and at a level of automation unavailable to incumbents."
Shai Wininger, who is more technical than Schreiber, tweeted last week that AI Jim is getting smarter in regards to a pet claim.
From a technological standpoint, pet insurance is probably the simplest line of business. The purchase experience is straightforward and unlike renters insurance claims that can involve water/fire damage and the need for adjusters, a pet owner simply needs to submit a vet bill.
From a service perspective, Lemonade doesn't offer pet policyholders something as simple as updating their address – this option isn't available online or through the app. For comparison, GEICO allows you to change your address for your car policy (even if it means a different state), view your rate, and pay the difference/get a refund.
From a claims standpoint, analyzing pet claims requires some basic natural language processing – the procedure is either approved or it isn't. Despite their "technological foundation," Lemonade's pet department has at least 60 individuals in customer service/claims roles and overall, a minimum of 40% of its workforce is occupied with customer service and claims tasks.
In 2021, Lemonade added around 426k customers to its base while spending ~$141 million on sales and marketing. Between Q3 2020 and Q3 2021, Progressive added 2.1 million new policies while spending well over a billion dollars on advertising. Some would argue that Lemonade is demonstrating good results around customer acquisition compared to Progressive, even though the customer mix is different between the two. However, this perspective is clouded because Lemonade keeps on promising the moon.
Ernest Hemingway once said that courage is grace under pressure. The leaders of Lemonade, Root and other insurance startups can use some grace.
Get Coverager to your inbox
A really good email covering top news.