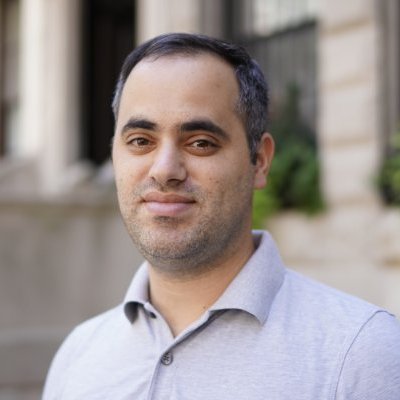 Friday Feeling: MamaMutual
Polar bears are losing their sea ice habitat which puts them in a vulnerable status according to the World Wildlife Fund. But polar bears aren't the only ones losing their habitat as advertisers are losing their favorite environment for brand-building and awareness – the TV.
For years the number of American households with cable TV has been declining and to add insult to injury, YouTube TV is advertising cable-free TV on cable TV. But that's not the whole picture. Ad-free streaming services are capturing screen time and the availability of DVR allows viewers to fast-forward through commercials. And when you get to the younger demographics it gets worse as cable TV represents just 12% of teens' daily video consumption – meaning there are a lot of people out there that don't know that 15 minutes could save them 15% or more on car insurance.
So what do you do when you lose your habitat? Female polar bears, in some areas, are more frequently choosing to build their maternity dens on land rather than sea ice as it provides the stability and security that sea ice no longer can. And when it comes to advertisers, they are going digital; eMarketer predicts that this year will be the first time digital ad spending in the US will be greater than traditional ad spending. But when you compare TV to digital you already see a significant difference – digital ad spending will grow 19.1% to $129.34 billion this year while TV ad spending will decline 2.2% to $70.83 billion.
A one-sided relationship
Dr. Kelly Campbell, Professor of Psychology at California State University, San Bernardino, describes a one-sided relationship as a romantic relationship in which the power is imbalanced and one person is putting in a lot more in terms of resources (time, money, and emotional investment) than the other and getting little to nothing in return. Being in a one-sided relationship is not good for you, but some relationships are hard to get out of. For example, your favorite sports team. You spend time and money, you cheer and lose your voice, you show patience and incredible belief, yet more often than not you're in a constant state of agony and disappointment. Btw, you can see Shefi talk about sports, loyalty and insurance here.
If there is a company to blame for laying the ground for one-sided relationships it would be Google. On October 23, 2000, the company announced the launch of AdWords, "a new program that enables any advertiser to purchase individualized and affordable keyword advertising that appears instantly on the google.com search results page." In the announcement, Google's former CEO Larry Page highlighted its affordability and the marketing manager for eyeondomain.com Genie Livingstone referred to the program as one of the best-kept secrets on the web. Well, the secret got out and just like in any auction system, high demand leads to higher prices. But cost aside, the nature of the advertising environment also impacts the results. According to WordStream, the average click-through rate – a ratio showing how often people who see an ad end up clicking it – is 1.91% on Google's search network and 0.35% on Google's display network. And of course, let's not forget the actual conversion rate of e-commerce which globally was 2.72% as of Q1 2019. In other words, advertisers are investing time and money to meet consumers online yet most of them are ignored because online the power is imbalanced as consumers control what they hear and see. So how does a one-sided relationship with online consumers look like? It looks just like any traditional one in which you put in a lot of effort and get little in return:
The power of advertising
We like to think that advertising doesn't influence us but we're wrong. According to Walter Dill Scott, one of the first scholars to apply psychology to advertising, our minds are constantly subjected to influences of which we have no knowledge. In his book, The Psychology of Advertising in Theory and Practice, he shares a personal story of a tailor in Chicago that was running an advertising campaign. "I did not suppose that his advertising was having any influence on me," he wrote. "Some months after the advertising campaign had begun I went into the tailor's shop and ordered a suit." The tailor asked Scott if a friend had recommended the shop to him and he replied that this was the case, but when he couldn't recall which friend made the recommendation, he realized he had been influenced by the advertising without his knowledge. But even when we pay little to no attention advertising still works as Michael Shudson describes in his book Advertising: The Uneasy Persuasion. "I find it hard to pay close attention to ads, especially on television. In this regard, it seems I am like most Americans. About 60 percent of adults remain in the room with the television on during an ordinary commercial break and most of them read, talk, eat, or do household chores. It is little wonder that, on average, less than 25 percent of a television audience can remember an ad they saw on television the day before, even when prodded with various clues. This does not mean that the ads are ineffective. In fact, television ads may be powerful precisely because people pay them so little heed that they do not call critical defenses into play."
Empires are built and destroyed by advertising. Newspapers were once on every corner and traditional media companies were the way to reach the masses. But as advertisers give more of their money to Google and Facebook, newspapers are disappearing and some media companies are going behind a paywall while others are begging for support. Advertising is powerful but it still requires an audience to make an impact. Currently, the audience prefers to spend time on Google, Facebook and Instagram and that's where advertisers' money is going because most would still prefer the hopes associated with a one-sided relationship than being lonely.
Get out of a one-sided relationship
Approximately 50 years after Neil Armstrong made his "giant step for mankind," Berlin-based PTScientists, a group of "new-space pioneers," will undertake the first fully privately funded mission to land on the Moon and Red Bull Media House will be the mission's exclusive global media production and distribution partner. As part of the partnership, Red Bull will develop, produce and license the mission's live broadcasts, behind the scenes footage, feature documentaries and other related content, including books, magazine print editions, and a soundtrack, as well as managing the project's social media channels and other media outlets. Many have shared their opinions on Red Bull's marketing initiatives but one thing's for sure – the company doesn't invest much in one-sided relationships. In 2017, Red Bull spent $30.2 million on traditional marketing efforts in the US, down from $54.4 million in 2016, according to Kantar Media. Instead, the company invests in initiatives that are difficult to ignore. Red Bull owns 15 titled sports teams, including five football clubs: Red Bull Salzburg, New York Red Bulls, Red Bull Brasil, RB Leipzig and FC Liefering. In July, RB Leipzig, which currently ranks second in the Bundesliga, has signed England's Under-21 forward Ademola Lookman in a deal worth £22.5m which is not very far from its traditional US marketing budget. And business is going well despite a decline in sugary drinks consumption – a total of 6.8 billion Red Bull cans were sold worldwide in 2018, representing an increase of 7.7% from 2017.
While not on the same level as Red Bull, Lemonade is also marketing in ways that are hard to ignore. "Our strategy is to delight consumers," writes Daniel Schreiber in the company's third anniversary Transparency Chronicle while highlighting that delighted customers are those who fuel growth. One of the most delightful features of Lemonade is its claims process. "About a third of our claims get approved instantaneously by the bot," said Schreiber at TechCrunch Disrupt. The company took a slow and usually unpleasant insurance experience and made it fast and somewhat pleasant in some cases, which results in happy customers that express their feelings online and offline with family and friends. And Lemonade is taking advantage of the good relationship it has with policyholders. On November 7th, the company sent an email to customers about its battle with Deutsche Telekom which included a Twitter link with the hashtag #freethepink – and on the first day, Lemonade saw hundreds of tweets that generated a good amount of earned media, meaning free advertising.
One less thing to worry about
I had a thought recently on how lucky insurance companies are. Look at digital cameras, VHS tapes, standalone GPS systems, newspapers, fax machines and landline phones – new inventions have reduced the need of these once-popular solutions. At Apple, someone is constantly thinking about 'what's next?' as it's foolish to think that the iPhone will be the ultimate invention. This isn't the problem of insurance companies as the product will never change. Sure, companies may get smarter with underwriting and prevention, but people will always need insurance and it will always be a contract promising to pay under certain circumstances. This means the insurance industry has one less major worry in comparison to others. However, insurance companies have one heck of a challenge – finding alternative distribution channels along with creating some kind of emotional connection with consumers.
I don't typically quote myself so I'll quote Accenture quoting me:
We recently introduced a pilot offering to help find an alternative insurance distribution channel and bring back emotions to the table, but that's not your only hope. There's a new trend in the restaurant world called ghost kitchens (also an upcoming Coverager Research report). Ghost kitchens are delivery-only restaurants powered by food delivery apps like Uber Eats, Grubhub and DoorDash. When more than half of restaurant spending is projected to be off-premise (deliveries, drive-throughs, and takeaway meals), companies like CloudKitchens are betting on delivery-only restaurants by allowing chefs and restaurant owners to open locations minus the expensive rent, labor and upfront costs. This means that getting into the food business is easier than ever. Now picture this: MamaMutual, a MassMutual delivery-only restaurant delivering homestyle cooking to you. The benefits? Appearance in popular food delivery apps and the opportunity to delight people through food – "their garlic mass potatoes was amazing!"
Business is powered by advertising and you need to find new outlets.
Get Coverager to your inbox
A really good email covering top news.