Aureus Analytics Helps The Hanover Insurance Group Extend DONNA to Select Agencies
Aureus Analytics Helps The Hanover Insurance Group Extend DONNA to Select Agencies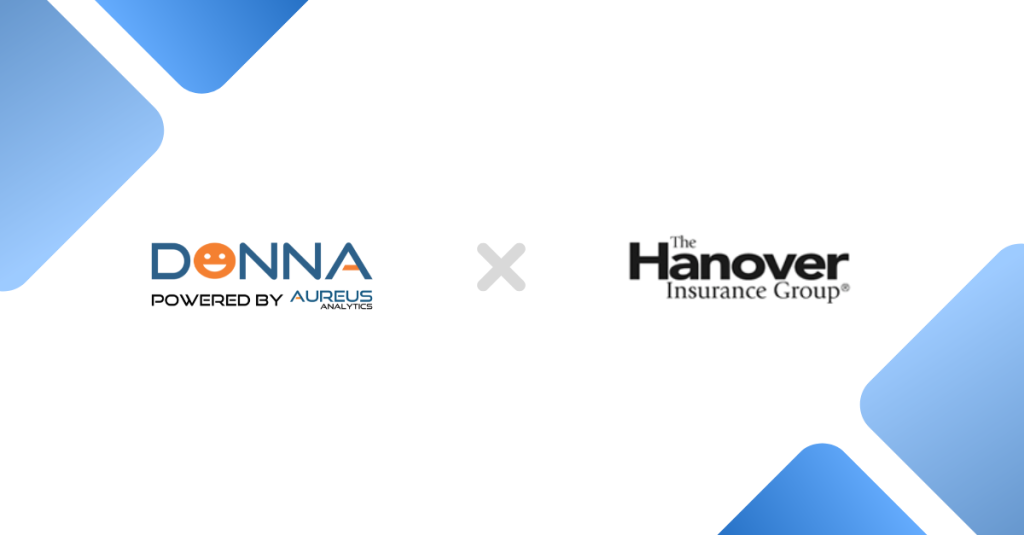 West Hartford, CT
Aureus Analytics, a global artificial intelligence technology company that provides customer experience and data analytics solutions to the insurance industry announced that The Hanover Insurance Group will offer Aureus' DONNA platform to a select number of its independent agency partners.
DONNA is an Artificial Intelligence and Data Analytics Platform for independent agents and brokers. DONNA helps independent agents to better serve their customers and enhance the value of their existing book of business.
The Hanover will offer DONNA to provide additional real-time data to agency partners that leverage The Hanover's Agency Insight capability. By providing agency members with deep and real-time insights into their customers, DONNA will help The Hanover's agents deliver a better experience to their policyholders.
"With the independent agent at the center of our strategy, The Hanover is committed to helping its agents and brokers support their customers and build their business for the future. Our Agency Insight capability is a distinct consultative analytical engagement to highlight key opportunities for our partners," said Michael D. Lewis, vice president of Corporate Strategy and the Agency Insight Center of Excellence at The Hanover. "Offering the DONNA platform continues our journey toward helping agents harness the power of data and transform the way customers experience insurance."
"At Aureus, we have a strong belief in the power of data and its ability to transform the Independent Agency operations. We are extremely thrilled to work with The Hanover, who has been a leader in this space. This relationship will enable agencies to harness the power of AI and Data using our DONNA platform to build a competitive edge for themselves," said Anurag Shah, CEO and Co-Founder of Aureus Analytics.
Since the launch of DONNA, the platform has processed more $3B of premium. Within just a few months of adopting DONNA, agencies have seen significant business gains, such as an increase in Written Premium by 15.13%, Average Policies per customer by 3.5% and Average Premium per Customer by +7.76%.
About The Hanover Insurance Group
The Hanover Insurance Group, Inc. is the holding company for several property and casualty insurance companies, which together constitute one of the largest insurance businesses in the United States. The company provides exceptional insurance solutions through a select group of independent agents and brokers. Together with its agent partners, The Hanover offers standard and specialized insurance protection for small and mid-sized businesses, as well as for homes, automobiles, and other personal items. For more information, please visit hanover.com.
About Aureus Analytics
Founded in 2013 with operations in the United States and India, Aureus Analytics is a customer intelligence and experience company that enables insurers to deliver superior customer experience leading to higher customer retention, loyalty, and lifetime value. The platform has processed more than 70 million insurance policy data points from customers globally. For more information, please visit donnaforagents.com.
Media Contact:
Prerana Suvarna
Aureus Analytics
prerana@aureusanalytics.com