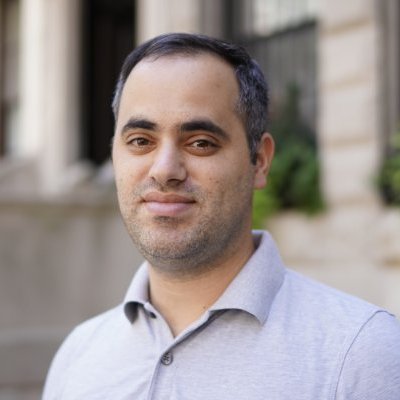 #MeetBryan
14. The Big Green Egg
Thursday is usually wings day at Bryan's office, but today was a special day. Mr. A (think: longtime colleague) saw the post about Bryan's BBQ and smoking skills and decided to bring his signature smoked brisket for lunch. While Bryan acknowledges Mr. A's grilling abilities, he thinks that Mr. A has an unfair advantage thanks to his superior Kamado grill (Bryan has the Masterbuilt Pro smoker). This is one battle Bryan can't win, not until he gets the Big Green Egg.
13. "Kick it up a notch"
You probably know Emeril Lagasse, the celebrity chef and TV personality best known for using catchphrases like "kick it up a notch" and "bam!" What you probably don't know is that the other person in this picture is the chef of Bryan's favorite restaurant for a date night with his wife. #MeetBryan
12. Out of the Furnace
The Mayweather vs. McGregor fight is almost here. We're not sure who you're betting on, but this fight brings up a question that believe it or not, can be asked in regards to our industry. We often witness the conversation of insurance vs. insurtech, but can we really compare two different styles by just one standard that's in favor of a specific style? Keywords: One standard. Two things to note. One. Consider watching the movie Out of the Furnace; yes, there's some boxing / fighting in it, but it's also one of Christian Bale's greatest performances. Two. Bryan is a big fan of boxing, and more than that, he has a deep understanding of the sport. We will try to get his analysis on the Mayweather vs. McGregor fight.
11. Wildwood Crest, NJ
Travel planning and booking site TripAdvisor has recently released its 2017 Summer Vacation Value Report, highlighting the top 50 domestic destinations for US travelers this summer. According to the report, Wildwood Crest, NJ is this year's top destination. And Bryan and his family were approximately 300 miles away.
10. Dale Carnegie's Golden Book
In 1936, Dale Carnegie put together a small booklet called "The Golden Book." In it, he listed a number of rules and principles from two of his successful books "How to Win Friends and Influence People" and "How to Stop Worrying and Start Living." According to Carnegie, his principles can help one acquire new visions, discover new ambitions, make more friends, and other grand attributes people with charisma are known to have. File under 'timeless tips', or 'Bryan's inspiring workspace'. Oh, and remember, everything you (we) do, sends a message.
9. How to light charcoal grills.
Forget the lighter fluid and the chimney starter. All you need is canola oil (or olive oil) and paper towels (Bounty / Viva). Here's what you do: Fold 5 paper towels into thick squares. Pour oil on each paper towel until it's soaked with oil (not too much). Place the oil-soaked paper towels in each angle and the fifth in the middle. Light each paper towel using a match, or rocks.
Speaking of charcoal grills, here's a picture from Bryan's BBQ yesterday:
8. The amba has arrived.
Remember when we told you that we were sending Bryan a special delivery? Well, the amba, along with other goodies, made the journey all the way from NYC to where Bryan's office is located (to be revealed).
7. Eddie & Eggs

One of Bryan's favorite activities is cooking breakfast for the family. Today he made eggs, while this song was playing in the background.
The Ingredients. 6 eggs. 1/4 stick of butter. Feta Cheese. Shredded Mozzarella cheese. Trader Joe's Jalapeno Pepper Hot Sauce. Frank's RedHot Buffalo Wings sauce. Sour cream. Thing to know. Bryan will never make the exact same recipe more than once.
6. A blast from the past
Bryan's present:
Bryan's past:
5. Point of view
Insurance. Insur(e)tech. AI. Agents. It all boils down to a point of view. And as Harper Lee (think: author of To Kill a Mockingbird) once said, you never really understand a person until you consider things from his point of view. Speaking of view, here's the view from Bryan's office:
4. Secondhand Lions is a 2003 American film about a young boy sent by his irresponsible mom to spend the summer with his wealthy, eccentric uncles in Texas. This film – starring Robert Duvall, Michael Caine and Haley Joel Osment (think: Pay It Forward) – is on Bryan's 'favorite movies' list. Play.
3. Middle Eastern Mustard
In the US it's referred to as pickled mango, yet its official name is amba. Before we continue, know that pickled mango has different versions and flavors. My favorite is the Iraqi-slash-Israeli version. Some say that amba contains mustard. Yet if comparing amba to mustard, then amba is the beauty and mustard is the beast, without turning into a handsome prince. Now don't get me wrong, I like mustard, but I like amba a lot more. And unfortunately for mustard, it cannot coexist with amba on the same plate or in the same sandwich. Amba isn't popular within the Coverager community. I want to change that starting with Bryan. For those of you who don't know, Bryan is a BBQ master with a specialty in smoking. He uses the Masterbuilt Pro Charcoal & Propane Dual Fuel Smoker that he bought from Home Depot. Bryan is about to get a special delivery of my favorite amba.
PS. If you're willing to give it a try, try Amazon (currently unavailable), or try here. And while you're at it, get bamba and Turkish coffee.
2. Todd Richard Skinner was an American free climber. His climbing achievements included the first free ascents of many routes around the world and the world's first free ascent of a grade 7 climb. This inspirational quote hangs from Bryan's bulletin board at his home office:
1. Bryan's weekend relaxation and unwinding routine takes place on the patio, by the fire pit, with a lit cigar, accompanied by his two boxers, Ginger and Scout.