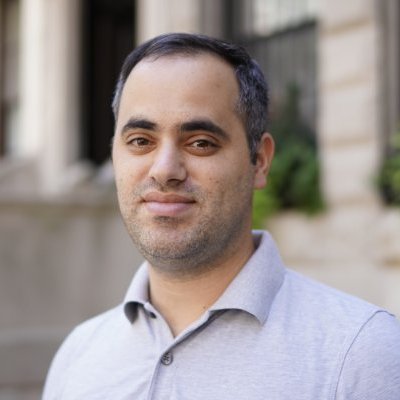 Friday Feeling: Insurance Maneuvers
It takes about five years of training and anywhere from $3 million to $11 million before a fighter pilot can lead flights. This reality, along with a retention problem, has led to the fact that the U.S. Air Force is about 2,000 pilots short. One of the main causes of the retention problem is private airlines offering greater salaries and flexibility in the private sector that encourages airmen to spread their wings and leave the nest. As a result, the U.S. Air Force has implemented a number of measures to try to keep pilots in service, including bonuses of up to $420,000 over 12 years to help take the financial burden off of military families. But the financial aspect doesn't address the biggest issue Air Force Chief of Staff Gen. David Goldfein hears from pilots, which is improving the quality of service an airman experiences. "How do we ensure their service in the United States Air Force is as rich an experience as we can possibly make it?" he said. "Pilots joined to fly. So how do we get that individual airborne to be able to compete and be the best they can be in the business of military aviation?"
Moshe Hadar was one of the most influential individuals who helped shape the Israeli Air Force (IAF). Born in Tel Aviv in 1926, Hadar fell in love with the aviation world in 1947 when he began working for the general aviation council, a code name for the Haganah's air force unit. The unit was underbudgeted and Hadar volunteered to speak to David Ben-Gurion, his neighbor, and the man who would become Israel's first Prime Minister. Hadar went to Ben-Gurion's house in Tel Aviv and explained the situation but Ben-Gurion pointed to his pockets, showing Hadar that there was no money to spare.
In May 1948, Ben-Gurion officially declared the establishment of the State of Israel and the Haganah became the core of the Israel Defense Forces (IDF). Hadar was now part of the IAF, leading the unit's public affair efforts. A day after the independence declaration, Egyptian pilots attacked a Tel Aviv airbase killing five soldiers and causing severe damage to the base. It was that moment that led Ben-Gurion to realize the importance of a big and strong air force unit and to achieve this mission, the unit will have to attract the best of the best.
After ~40 years as one of the most recognized taglines in American advertising, "The Few. The Proud. The Marines." may face retirement. The tagline – which made its debut in 1977 and is considered one of the most successful ad campaigns of the 20th century – was created by JWT, one of the biggest advertising agencies in the world. So while battles are won in the air, land, and sea, the men and women fighting the battles are won over by slogans, ads, and heroic stories. Hadar, who passed away in 2015 in Los Angeles, used his skills as a journalist, scriptwriter, and advertiser to motivate and attract skillful individuals to fly the skies. He created the first IAF magazine and acted as its editor-in-chief for 28 years. Hadar wrote many words over his career, but it was just two words in 1960 that made him famous – הטובים לטיס. Some slogans are hard to translate but here's my translation: The good to the air force.
In a country with a limited military budget, you don't let just anyone fly an F-15 plane which can cost around $100 million. The slogan coined by Hadar and the demanding requirements helped the Israeli Air Force position itself as the most prestige military unit in the country that's made of the best of the best.
The insurtech movement aims to take the insurance industry to new heights, and one insurtech founder knows what it feels like high above. Guy Goldstein, the co-founder and CEO of Next Insurance, is a former Israeli fighter pilot who's experiencing rough skies on his way to make Next the one-stop-shop for all small business insurance needs.
Goldstein founded Next Insurance alongside Nissim Tapiro and Alon Huri after a successful startup exit. The three met in the early 2000s at Mercury Interactive, a software company that was acquired by HP for $4.5 billion in 2006. After some time at HP, they decided to launch their own venture and went on to create Pageonce, a tool that helped users remember their passwords for various sites. The startup, which raised $50 million in funding, pivoted several times to later become Check, a personal finance and bill payment app that was acquired by Intuit for $360 million in 2014.
The first decision leading to the formation of Next was to go at it again together. The second decision was to not go the traditional startup route of coming up with an idea. Instead, the founders decided to talk about everything but the idea, creating a criteria list of the company they wanted to build. For the first 3-4 months, they talked about the vision, doing good, and the desire to build a company that will be a disruptor in a specific market similar to Uber and Airbnb. This thought process led them to small business insurance, a decision that was reaffirmed as the founders discovered that the U.S. market is fragmented and lacks a market leader. "Investors asked us what we know about insurance," Huri shared in a podcast. "We barely knew how to pronounce insurance but this is where our philosophy comes to play – we're building it from top to bottom, not from bottom to top. We're looking at it from a consumer perspective."
While Next's cofounders knew nothing about insurance, they knew how to bring users. Their previous startup attracted over 10 million users before being acquired by Intuit and they recognized opportunities early on by betting on mobile and creating an iPhone app that was made available in just the second day of the App Store's existence. "We know how to bring users," Huri declared. "Whether it's for a shoe store or insurance it doesn't matter – if you're an expert you know how to do it." No wonder why Next pivoted to become a licensed carrier – it brought people into the store but the merchandise wasn't attractive. "Becoming an independent, licensed insurance carrier became our goal the day we realized that existing insurance companies do not provide the insurance product that entrepreneurs want and deserve," Goldstein said.
Alon Huri who oversees Next's growth said that in the land of the blind, the one-eyed man is king in the context of what Next needs to do to succeed. The company isn't looking to build the smartest algorithm or to reinvent the wheel. Instead, it wants to be relatively better than its competition, and if everyone around you is blind, one eye will do. But when things don't go according to plan, you start to maneuver. In 2017, the company was bidding on ~2,500 Google keywords, going head to head with commercial insurers on generic terms such as 'liability insurance' and 'contractors insurance' and even bidding on keywords that include an insurer's name such as 'ace insurance'. However, in 2018, the company significantly reduced the number of keywords it was bidding on to ~350. And in 2019, the company placed bids on ~490 keywords with around 62% of them being non-branded, yet the majority of these keywords have a very low monthly search volume.
Next, which isn't able to sit back and rely on agents to do the selling just yet, is learning that it can't afford to compete with big insurers with deep pockets that bid for the same keywords. Instead, Next is looking to get some alone time with the consumer before everyone else shows up with the hopes to generate awareness. The company ranks in Google's organic first page results under several popular search terms such as 'contractors license', 'independent contractor taxes', and 'handyman license', with each search term being met with a lengthy and informative article about the specific topic. Combined, these search terms generated around 140k page views for Next since the beginning of the year.
It seems that the company is investing in meeting customers before those begin to search for insurance. Next is currently looking for a social acquisition manager that will be responsible for managing large scale paid campaigns (>$350k monthly) on various social networks including Facebook, Instagram, LinkedIn, and Twitter. In addition, the company brought on a YouTube specialist to promote video ads on a platform where you can target consumers based on their Google searches.
Huri declares that everything Next does is ROI-based. Despite that, Next is about to go on a marketing adventure where the ROI is very hard to measure. The company announced the appointment of former Fitbit executive Melanie Chase as chief marketing officer, and it is also looking for a creative director that will be responsible for "elevating Next's brand and developing high-impact, polished creative across full 360 campaigns including TV, online video, website, out of home, digital, social, email and beyond," with the goal of establishing Next as the top of mind brand in small business insurance.
But that's not the company's biggest maneuver. In a 2019 fintech conference, Huri shared this slide where he talks about Next's advantage by cutting the middleman – the insurance agent.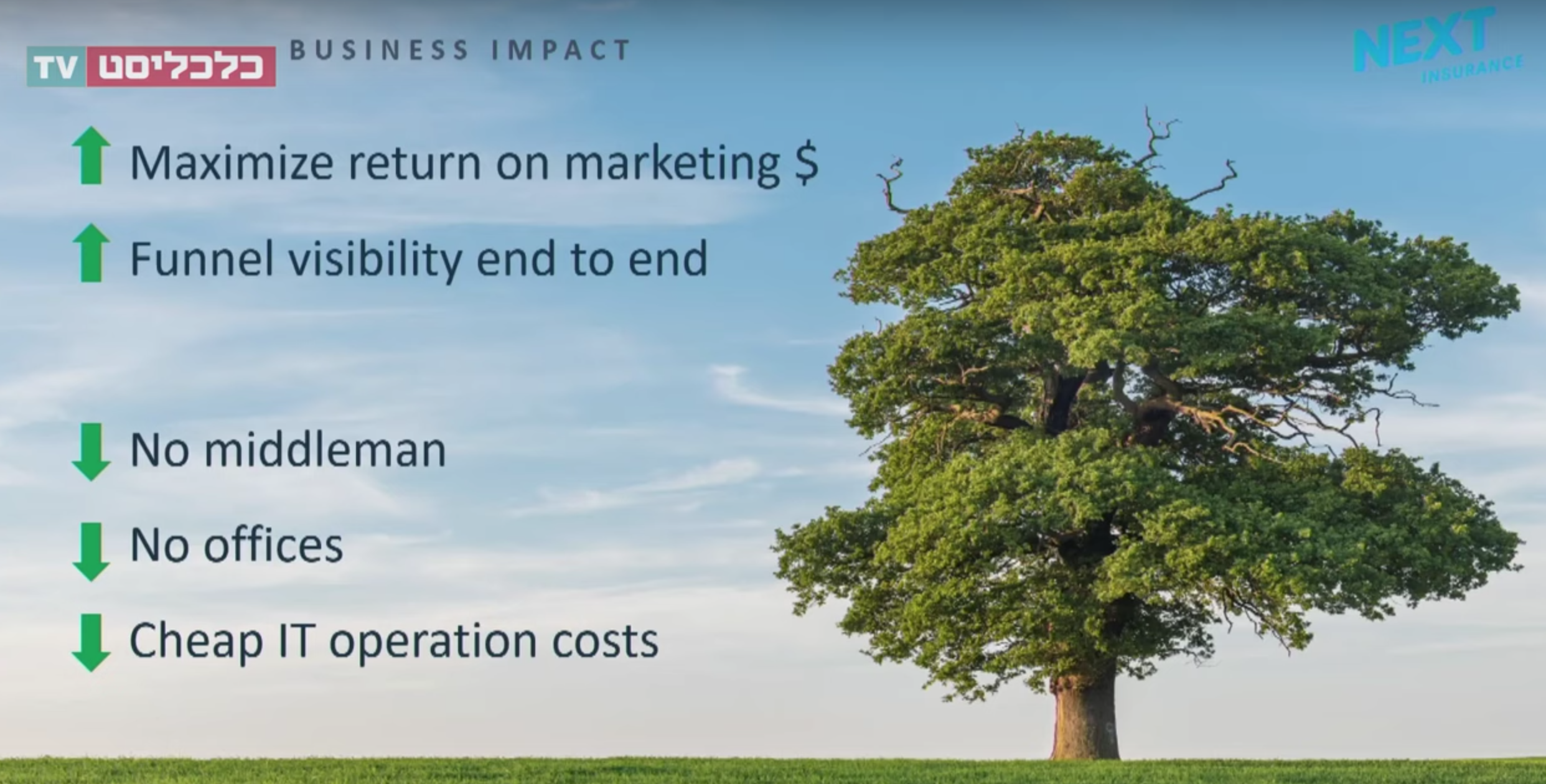 However, in September, the company announced Next for Agents, enabling independent agents to quote and sell Next Insurance policies. "We recognize that some business owners prefer to work with an agent, so in order to ensure that our product is available to all businesses we launched Next for Agents," said Goldstein in the announcement. Based on this, one might believe that Next is in high demand and the only missing part is a trusted agent, but if anything the opposite is true. Next understands that it can't wait on consumers to search for insurance or provide hints online because those instances are limited, and the good ol' nag from a friendly commission-based agent is a crucial element for success.
"At every point in time you need to understand where you stand and how to leverage the tools that can help you," says Huri. "There are no secrets. Those who succeed are the ones that can identify the opportunity a minute before someone else." Next is maneuvering in search of different opportunities and to win, it will need to fight on multiple fronts – online and offline.
Get Coverager to your inbox
A really good email covering top news.